Figuring out how to bike with young kids off-road is tricky.  Even if they are old enough to ride their own bike, it takes a long time before they have the endurance or skill to ride long distances or up larger hills.  Most trailers and bike seats are designed for riding on paved bike paths and don't perform well once they hit gravel or narrow trails.
Despite the added challenge of taking little ones off the beaten path, the rewards are so worthwhile.  Kids are drawn to nature, and one of the best ways to get there is on two wheels.  My favorite moments as a family have been stopping for a snack at the top of a mountain lookout or setting up our tent after a long day of biking to a campsite.
So how do you do it?  There are several options for biking with kids off-road: a trailer, trailer-cycle, front-mounted bike seat, tandem, cargo bike, or a bike towing system.  In each of these categories, there are products that are better suited for off-road riding than others.
Bike Trailers
Bike trailers are the most popular way of hauling kids by bike, and they are a good option for off-road riding as well.  That said, dirt roads and trails are far bumpier than pavement and require a more durable trailer.  The best trailers for riding off-road include suspension to help dampen the effects of rocks and ruts.  When our son was a toddler, we used our Thule Chariot on many miles of dirt rail trails.  The Burley Cub and the Croozer Kid Plus trailers are also good options for off-road riding.
If you plan on riding narrower trails, a traditional bike trailer won't work.  There is, however, one option for singletrack-loving parents.   The Tout Terrain Singletrailer is a single-wheel trailer, popular in Europe, that is narrow enough (and plush enough) to slay trail with a child in tow.  Unfortunately, it is also REALLY expensive so you had better be prepared to put in a lot of hours in the saddle to make it worthwhile.
Bike Seats
Traditional rear-mounted bike seats don't work particularly well for off-road riding.  There are some front-mounted seats, however, that have been designed for use even on singletrack.  In North America, the most popular seat in the mountain bike community is the Mac Ride.  We have one and use it with our 5-year-old on mellow trails.
The benefit of a bike seat is that they are lightweight and offer kids an interactive, up-front view of the action.  The downside is that they are outgrown quickly, and if you aren't a confident, capable rider, you risk your child crashing if you go down.
Trailer-Cycles
Trailers and bike seats are good options for toddlers and pre-schoolers, but what slightly older kids?  For the grade-school crew, trailer-cycles are probably the best option.  That said, not all trailer-cycles are created equally for off-road riding.  (Our family has learned this the hard way).
As I already mentioned, dirt, rocks, and ruts are tough on equipment and you'll want to make sure you are buying a trailer-cycle that is intended for off-road riding.  The Burley Piccolo is a popular pick amongst families that like to adventure, as is the Weehoo.  The Weehoo works for both little and big kids, though we've found it most enjoyable for younger riders.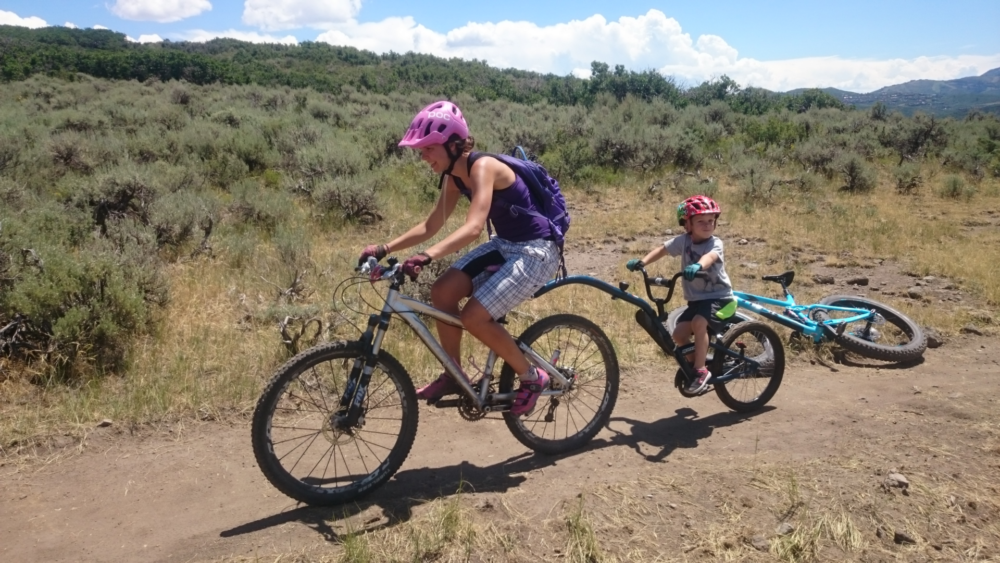 For rougher riding, and for those with a fat wallet, Tout Terrain once again offers an impressive offering with the Streamliner.  This trailer-cycle offers an air sprung shock with 160mm of travel.  If your family plans on doing lots of singletrack riding, this might be a worthwhile investment.
Even with suspension, however, the Streamliner can't escape some of the drawbacks that all trailer-cycles have for off-road riding.  The first is that they are heavy.  Try hauling a kiddo on one up a steep, loose climb and you'll see what I mean.  Secondly, they can be difficult to maneuver on tight trails (or any tight spaces for that matter).  Nonetheless, trailer-cycles remain one of the most affordable viable methods for biking with kids.
Tandem
If you are committed to doing lots of off-road riding or family bikepacking, a tandem may be the way to go.  Of course, you have to justify the cost of another new bike, but you can't put a price on quality family time, right? Ventana makes an awesome full-suspension tandem, and you can fit a smaller rider on the back with a child stoker kit.  Tandems aren't as clunky or awkward as a trailer-cycle, though you still have extra weight to haul if your child isn't pulling (pedaling) their own weight.
Cargo Bike
Most people think of cargo bikes being exclusively for urban riding, but they can work well for off-road riding as well–even with kids along.  Cargo bikes such as the Xtracycle Edgrunner or the Salsa Big Fat Dummy can be outfitted with off-road tires and a rear deck to haul kids.  These bikes don't work quite so well for singletrack, but on long dirt roads or rail trails, a durable cargo bike is hard to beat.  Add some panniers and you can carry gear for bike camping as well.
Bike Towing System
For kids that are already strong riders but need some help to go the extra distance, consider using a bike towing system such as the BicycleBungee or TowWhee.  Our family has used both and recommends either.  For singletrack riding, a tow system works much better for making tight switchbacks when compared to a trailer-cycle and gives kids the opportunity to practice their bike handling skills.  The only bummer is if your child has a meltdown and gives up riding completely, you don't have a  way to haul them out like you do with a trailer-cycle.