"Contagiousness is an unexpected property of all kinds of things, and we have to remember that if we are to recognize and diagnose epidemic change."
-Malcolm Gladwell
A couple weeks ago, I had dinner with a woman I hadn't met before who told me she'd recently started biking to work. My ears perked up at this news as they always tend to whenever bicycling is injected into a conversation. I knew this woman was a lawyer, but when I asked about the specifics of where she worked, we both broke into smiles. Shell, she told me. Yes, that Shell. She went on to explain that the offices of the Dutch-owned company in downtown New Orleans were filled with ardent bike commuters, many of them having moved from bike-happy Holland and having seen no reason to abandon their culturally-prescribed mode of choice upon their arrival in the much less bike-hospitable U.S.
My dinner companion (who, being quite socially-aware, drives a Prius to work on the days she doesn't bike to the office) went on to concede the irony of the fact that she'd been inspired to bicycle by her colleagues at a multinational oil giant. Irony aside, I think her story is a prime illustration of what I have long believed to be true based on experience and empirical research: that there is a contagiousness at work in peoples transportation choices and this is true whether we drive, walk, take transit, or ride a bike.
Much is made, with good reason, about the importance of good infrastructure and policies in encouraging people to reduce their dependency on private automobiles. But I think it's also quite important to acknowledge the vital role that good old peer pressure can play in shaping our transportation habits.
I'm hardly the first person to make this observation. Portland-based researchers Jennifer Dill and Kim Voros in a 2007 study found that people living in neighborhoods in which they frequently encountered other cyclists or who lived or worked with other cyclists tended to be more interested than those who did not in taking up the practice. Other studies on factors that promote or deter bicycling have similarly pointed to the importance of seeing others with whom the observer can relate in the bike saddle in encouraging similar behavior – perhaps one of the reasons the number of women who bike for transportation in this country remains so much lower than that of men.
A few years ago, while interviewing residents of New Orleans for my graduate research on factors that influence interest in transportation bicycling, I was struck by a comment made by a friend of mine. Although she'd only used her bike for recreation in the past, she said she found herself reconsidering her transportation choices in light of a recent change in neighborhoods. She had relocated to a part of town just downriver from the French Quarter called the By-water, one of the city's bohemian outposts that happens to be swarming with bicyclists. "It makes me feel like an asshole," Daisy told me, "living in the By-water and driving."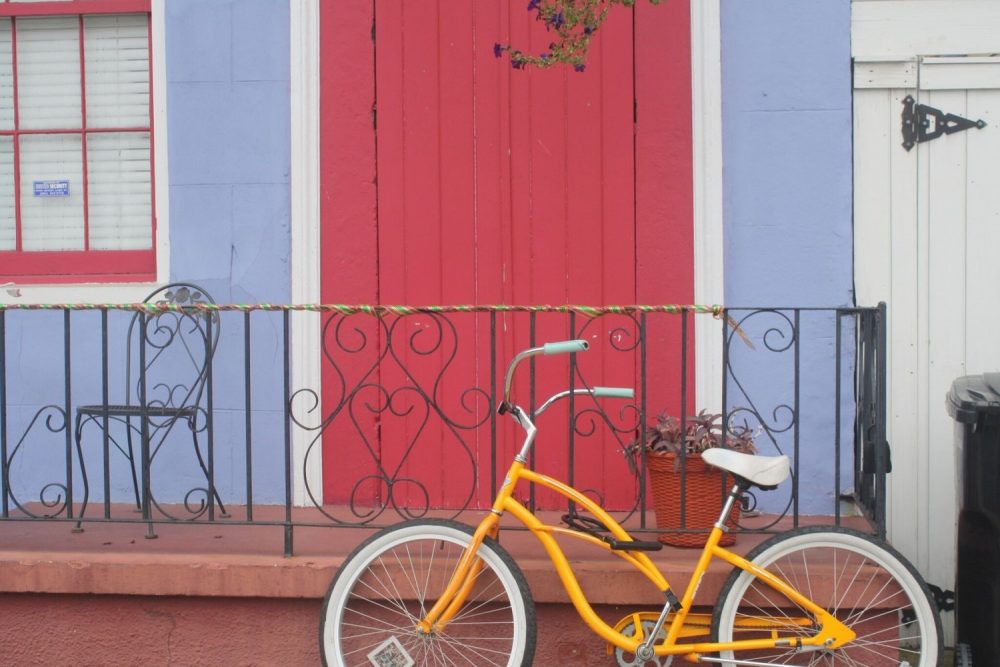 To me, this contagiousness effect represents an exciting opportunity because while most of us have little individual control over city construction budgets or policies or direct lines to our city councilperson or mayor, the thing over which we have the utmost control is our own behavior. Just by getting on our bikes, we can all serve as cycling ambassadors, turning on our friends, family members, co-workers, and the frustrated driver stuck in snaking traffic as we happily roll past in the adjacent bike lane, to another way.
This is in part the idea behind National Bike to Work Week, commemorated this year May 16-20. (In New Orleans, we mark the occasion in April, when the weather tends to be more conducive to luring out first-time bike commuters.)
At my own office, the annual event has helped to inspire more than a few formerly driving-exclusive colleagues to – at least occasionally – opt for two wheels. And even among those who only tried it once and haven't been back in the bike saddle since, I would say that the experience was quite meaningful. One coworker in particular told me the perspective afforded based on her short stint in the bike saddle has made her imminently more understanding and aware of the plight of others on the roadways and reminded her to always watch out for and be patient and careful around bicyclists.
So why not take advantage of the upcoming opportunity to encourage more bicycling at your office? You might be surprised at the response.To that end, I've come up with a few suggestions for making the most of Bike to Work Week, wherever you happen to live:
–Sign up for a bike to work challenge if one is offered in your city. In New Orleans, the local bike advocacy organization encourages workplaces to sign up and compete for the highest levels of participation. You can also sign up at People for Bikes' National Bike Challenge.
–Create an inner-office challenge of your own. For last years Bike to Work Week, I set up a leaderboard in the office breakroom on which we tracked every day that someone biked, walked or took transit to work. (We included the three modes in the spirit of being as inclusive as possible.) Participants dropped their names in a bucket for every day they arrived by alternative means, with first-time non-drivers allowed to put in extra entries so as not to tilt the scales too heavily in favor of veteran active commuters. At the end of the week, we held a drawing and gave out prizes collected from local bike shops that were more than willing to offer up bike bells, reflectors, water bottles, and other freeb
ies for the cause.
–Help coworkers find a bike to borrow or get ones they haven't used in a while in working order.
-Set up a buddy system whereby more experienced riders can accompany the less experienced to and from the office.
–Arrange a morning meet up at a local coffee shop or breakfast spot to get the work day started in a special way.
-Decide on a day to bike to lunch as a group.
-Give some advanced training on safe riding practices. Here's a video that may be helpful, put together by my office a few years ago and featuring yours truly.
-Dont be surprised if you soon find more competition for use of the office bike rack.
Emilie Bahr is an urban planner and writer who lives in New Orleans. She is the author of the book "Urban Revolutions: A Woman's Guide to Two-Wheeled Transportation." Follow her on Twitter at @EmilieBahr.