As I've mentioned recently, we've got some big plans here at the Campfire Cycling blog. We're focusing on #1 improving the quality and consistency of our content. And #2 improving the design and functionality of our blogging software (Through WordPress Custom Theming).
For the content side of things, we're currently recruiting four bicycle bloggers to focus on our Bike Touring, Commute by Bike, Family Cycling and Utility Cycling categories. We're inspired to bring together a voracious crew of talented bicycle bloggers to reinvigorate our writing and bring you supercharged cycling content.
If you are interested in applying, please see the application instructions below. If you know anyone who might be interested, please forward this post along. And please help us with this recruitment effort by sharing this post on Facebook, Twitter or the bathroom door at the closest truck stop.
On the blogging software side, the wheels are in motion beneath the surface for some major improvements. For the last 6 months, I have been studying front-end web development. While I am still very much a beginner, I am making strides at gaining technical design/development skills. And most importantly, I am seeing the pathway to dramatically improving the look and functionality of both our blog and our eCommerce shop.
This effort is not just hinging upon me. Frank Koenen, our back-end developer, does the heavy lifting of managing all of the hard-core technical aspects. He manages the entire project which includes: LAMP stack (server management), custom OSCommerce shopping cart, WordPress, WooCommerce and our custom OSCommerce (in development), integration between OSCommerce and Xtuple ERP + many more systems. In short, Frank does all of the tech-geek stuff while I focus on the design and user-experience side (certainly geeky in its own right).
But back to the point, here are summaries or our four types of bicycling focuses.
The internet is full of bicycle touring bloggers. What else are you going to do while you take a break at the quaint little coffee shop in the middle of no-where. We're looking for a bicycle touring writer who can look both inward and outward, telling both their own story and the epic of the bike touring movement as a whole.
Our bike touring focus:
Traditional Touring
Weekend Adventure Stories
Stories from Big Time Adventurers
Bike Touring Infrastructure
Grand tours, epic weekend backpack adventures the perfect honeymoon by bike…. we love seeing the world by bicycle. It is inspirational, relaxing, loads of fun and simply put the best damn way to go on vacation.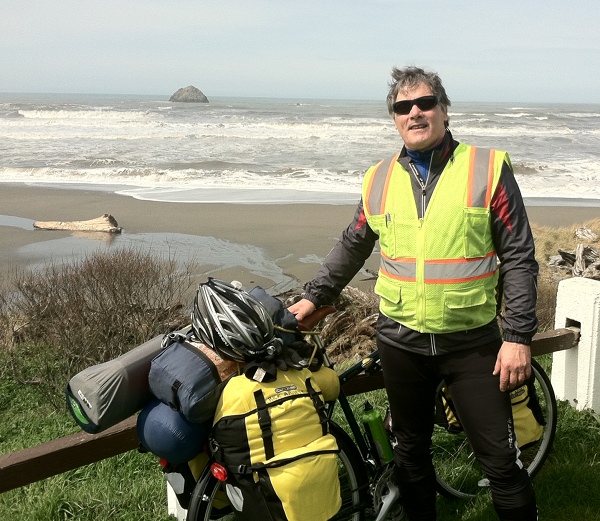 This category has its roots in the blog CommuteByBike.com, which we took over management of in 2011, and the bulk of our archived content is made up of over 3,000 bike commuting related posts. We're are looking for someone to carry on this fine tradition with provocative posting about their personal experiences bike commuting and the state of bike commuting in the US.
Our bike commuting focus:
Bike Parking and Facilities for Bike Commuters
Bike Commuting Gear
Daily Life of Bike Commuting
Are you looking for the best way to save money, improve your health, help the environment and have fun while your at it? The answer is simple. Get out your bicycle and ride it to work.
I've noticed that there is a dearth of actively maintained family cycling blogs. I suppose you can only be an active family cyclist for so long. Our solution to that will be to accept that once our writers done trucking their kids around, we'll probably have to replace them with a fresh, new parent.
Our family cycling focus:
Kids in Cargo Bicycles
Bike Child Seats
Teaching Kids to Ride (Balance Bikes and Training Wheels)
Teaching Kids Bicycle Safety
Going cycling with kids is a great way to get out and have some fun with the whole family all while introducing your kids to the joys of cycling. We'll introduce you to the world of family cycling and all of the tips and tricks you need to make it a truly wonderful experience.
Our blogging roots are in blogging at UtilityCycling.org and before that the closely related BikeTrailerBlog.com, having published over 500 posts between the two. We are looking for someone whose current occupation involves utility cycling. I am imagining a bicycle messenger, bicycle delivery or bicycle cabbie. Finding someone in a highly trafficked bicycling city like Portland, NYC, Copenhagen or Amsterdam surrounded by plenty of activity in the Utility Cycling realm would be ideal.
Our utility cycling focus:
Bicycle Delivery and Messengers
Bike Cargo Trailers
Cargo Bikes
Specialty Work Bikes
Bicycles are more than machines for recreation and sport, they are tools for getting work done. I'm sure your familiar with common economic uses of bicycles for delivery and taxis, but the depth and breadth that bicycles of tasks that bicycles have been deployed in is quite astounding. We'll explore all of the arenas that bicycles are part of the tools of the trade and discuss new ideas and opportunities for the future of utility cycling.
Job Details and How to Apply:
We are looking for experienced writers who are passionate about cycling and who can contribute a monthly post to the www.CampfireCycling.com blog, focused on one of our four blog categories.
Contribution Requirements
Once per month deliver (on-time) a 600 to 1500 word high-quality blog post.

Posts will need to be input into WordPress, edited and ready to publish.
Posts should include 3 to 6 original photos and possibly a video.
Benefits
$20 per hour (and upward depending upon experience)

In general, we're budgeting $60 to $100 per post.

Employee pricing of www.CampfireCycling.com's cycling and outdoor gear accounts.
Learn our business blogging (and WordPress) best practices.
Develop your personal brand and send traffic back to your website.
Gain experience and develop connections within the bicycling industry.
Qualifications/Experience (Necessities):
Professional experience as a writer.
Examples of your writing.
A strong passion for cycling.
Substantial experience within the cycling category you are applying for.
Qualifications/Experience (Nice-to-Haves):
An active bicycle blog (or any blog for that matter).
Examples of writing within the cycling category being applied for.
How to Apply:
Email josh@www.CampfireCycling.com
Title your email: I'm interested in blogging for www.CampfireCycling.com
Copy/paste the following application questions into the email.

Input 3 returns between each bulleted question.
Input your answer so that there is one empty line above and below.

Please submit your application by Feb. 1st (We will consider application submitted through Feb. 8th)
Application Questions:
Please describe your professional writing experience.
Please describe your involvement in and passion for cycling.
Which of our four blog categories are you interested in applying for? (Choose up to two, listed in order of preference)
Do you have a blog, and if so please summarize your experience as a blogger?
Are you capable of producing and uploading a fully edited blog post to WordPress?
What is your current employment status?