Nathan Friedman specializes in living the good life and making it look easy. Mountain biking all summer and skiing all winter, Nate is a rock star of the outdoor opportunities in the Southwest. To get some inspiration on living life to the fullest, check out his blog, Handlebar Sandwich.
---
Commute by Bike's editor gave me a call a couple months ago and said that he had gotten in another sample of chain lube from a new company and thought I might like to give it a try.
Apparently my previous review where I self-proclaim myself a 'lube snob' stuck in his mind, and he wanted to give me first crack at a couple bottles of   Gnar Lube Blue Opal.
It turns out that they sent a couple bottles of the Blue Opal — as well as a few other things.   There was a really nice print (number 3/100!) plus a few t-shirts.   Two of them were women's sizes, and two of them were just perfect for me.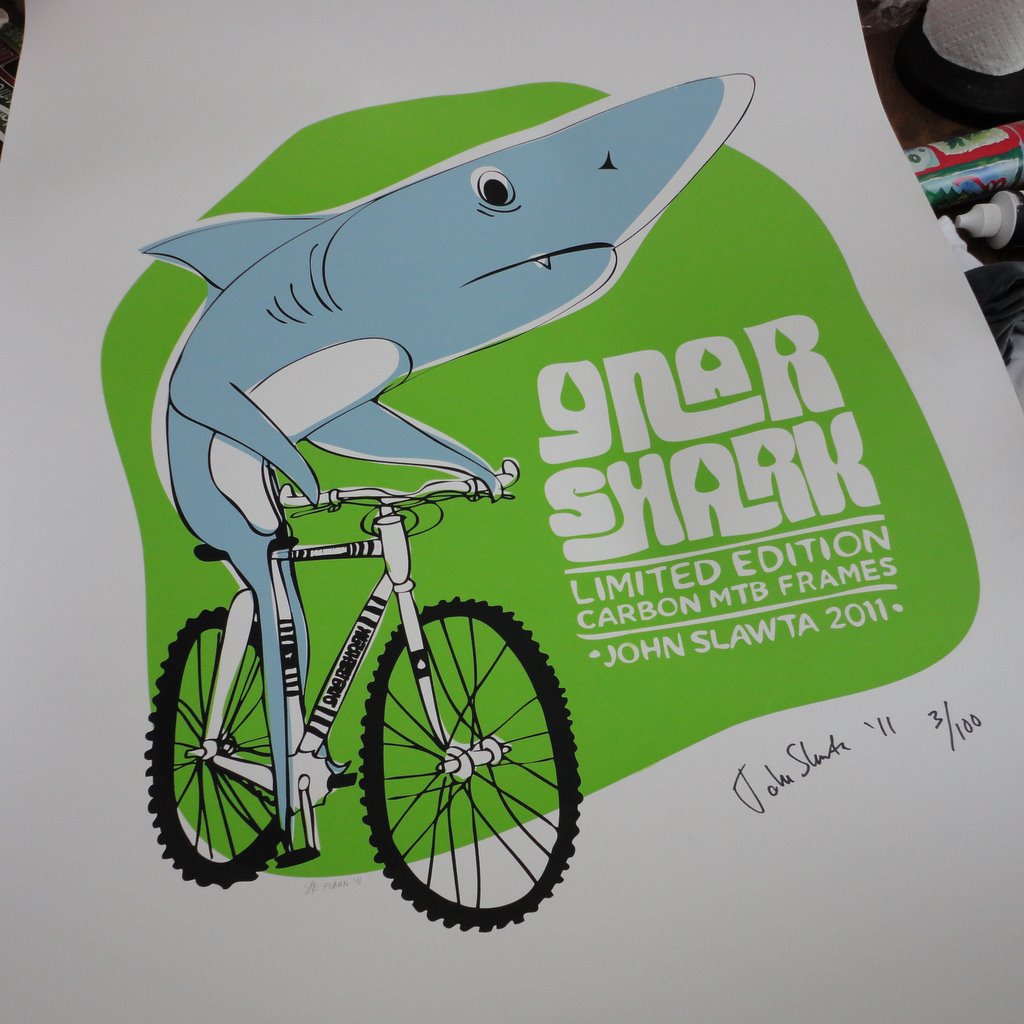 The one thing that confused me slightly was that two of the shirts and the poster referenced "Gnar Shark" bicycle frames.   Not ever having heard of Gnar Shark (but liking the name), I headed over to the Gnar Lube site to do a bit of research.
From the Gnar Lube site a couple things became apparent:
They have three kinds of lube, of which I had receive two bottles of the "Wet Lube Anti Corrosion * Extreme Weather * Heavy Bodied" Lube.   Their other two are "dry lubes", one of which comes in a honey bear.
They only make lube, but have a ton of other paraphernalia, including t-shirts, prints, team kits, and other assorted goodies
Gnar Shark are some custom 29er mountain bike frames which are made by Land Shark for Gnar Lubes
They have a pretty interesting Tumblr Feed (fair warning, there are a couple pics of a naked bike ride on there, so probably NSFW)
As much as I like their other t-shirts and such, the real goal here was to see how their lube holds up.
Before we jump into the review, I want to give a bit of a disclaimer: It's now the winter/wet season here in Arizona.   This means that, in contrast to my last lube review, I wasn't as able to assess the 'dust pickup' factor of this lube as well, but I was able to run it through it's paces in the sand of Sedona and on the wet (and sometimes snowy commute) here in Flagstaff.
I first flipped the bottle of lube over, and checked the instructions.
I proceeded to do some chain cleaning and then apply the Gnar lube to both my mountain bike and road bike.   The first thing you notice is how thick the stuff is.   It comes out about the consistency of molasses.
After you apply the lube, you notice it actually sits on the surface of the chain for a little while before it starts to seep in.   The first time I applied, I put a dot on each link, as usual, and then ran a rag over the chain to wipe it off.
About halfway through the ride, my chain started making noise, and I looked down to realize that the chain was dry already.   It turns out that this stuff is so viscous that you really have to wait for it to soak in the chain before wiping off the excess, or you'll just wipe off everything you've applied already.
After a couple more tries, I actually found the best way to apply this lube was to put a drop on the top side of each link, and then walk away for a while (at least 15-20 minutes) for it to really soak into the links.   When you come back, there will be a smaller drop on the underside of the link where the excess has dripped through, and you just wipe that away to end up with a perfect coating.
The lube has PTFE and Molybdenum Disulfide in it, which are both dry lubricants that do a very good job of coating the links and keeping them quiet and smooth for a long time.   These are the primary ingredients in most dry lubes, but are becoming increasingly common as additives to wet, oil-based lubes.
I found that the thick oil-base of this lube did a good job of sealing the chain for any sort of sloppy and wet riding, so it was ideal for the winter commute around here.   If properly applied, it seemed to last as long, if not longer, then my beloved Dumonde Tech lube.
The downside to high viscosity lubes is typically the attraction of dirt in dusty areas.   Admittedly, I didn't get out in any really dusty days with the lube, but I did give it a try a few times on my mountain bike, and it seemed as though the dust pickup was directly related to how well I cleaned the lube.   If you apply and then immediately wipe, you don't get enough lube, but if you don't wait long enough for the excess to drain to the bottom of the links, it would 'seep' lube during the ride and pick up dust as well.
The bottom line is that I ended up liking the Gnar Lube, but feel as though it took a little bit of effort to get the correct amount on the chain.   However, if you're willing to take a few extra minutes to apply correctly, the lube is very durable and long-lasting.   I would readily use this on a commuter as it seems to last a good long time, and the fewer times you have to apply it (if done correctly) easily outweigh the time taken to let it soak into the links.
For a mountain bike, it could be a good base lube to apply during maintenance sessions, but I prefer something a bit thinner for a quick pre-ride (or even during-ride) application.   In our dry environment in the summer, I feel as though a slightly thinner lube applied more often helps keep the dust pickup down on the trails. I even tend to bring a small bottle of lube with me on long rides, and I don't think this would be the one I grab.
And they've got some pretty cool shirts as well.