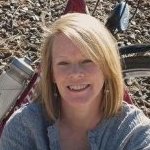 Karen Voyer-Caravona is an admitted bicycle dilettante in Flagstaff, Arizona, who blogs about her adventures on two wheels, vlo envy, her husband's cooking, and cross country skiing at www.sheridesabike.com. Visit her Website for her endless opinions on the most stylish shoes for pedaling, critiques of bike parking, and the best bike date dining destinations.
---
If your preferred mode of transport is a bicycle, its a pretty good bet that you will want to get around by bike while on vacation. Usually, when my husband Bob and I travel, we save money by walking, taking public transit and renting bikes.
Last year, however, while visiting my family in South Carolina, those options werent readily available so when I stumbled upon a Dahon Eco3 folding bike at a local bike shop, I immediately began fantasizing about how much fun it would be to tool around downtown Greenville on it. A road test, a friendly chat with the bike shop owner and a nod of approval from Bob were all it took for me to slap down the money and have it sent back to Flagstaff. From now on I would be traveling with my own bike.
Last March, Bob and I flew out to San Francisco for a long weekend. I transported my new bike in a Dahon Airporter suitcase. Bob wasnt ready to buy a folding bike and therefore rented a bike at Bay City Bike Rentals and Tours across the street from our hotel, choosing a two-day rental. Naturally, we conducted an unscientific cost benefit analysis of bringing a bike versus using a rental or bike share program.
After picking up his rental from Bay City Bike, we took a quick look at the cost comparison. Figuring in the cost of the Dahon and the accompanying luggage my trip was already costing us about $700! We excluded the initial costs of my bike since I was using it on an almost daily basis at home, so now my cost are around $275, the price of the bike luggage. Southwest Airline charged me $50 at check-in because the bag weighed slightly over 50 lbs and measured just outside the standard suitcase size.
Bobs two-day rental, which included a rear bike rack, a map, camera bag, lock and water bottle holder, came out to around $70, with tax. Admittedly, my expenses were higher but if you already have luggage that can accommodate your bicycle it could actually be more economical to bring your own bike (BYOB?).
Brompton owners, for example, could probably use a standard piece of luggage since Bromptons fold up more compactly than does a Dahon. Baggage fees seem to be hit or miss anyway, as I wasnt charged a fee for the return flight to Arizona; in fact, the ticketing agent never even weighed or measured my bag.
Now on to the benefits. For two full days, Bob and I explored San Francisco and across the Bay in Marin County exclusively by bike, except for the return trip across the Bay by ferry.
Both of us agreed that there was no better way to get to know San Francisco and the surrounding area than by bike. Whether traveling with your own bicycle or using a rental, being on a bicycle liberates the traveler for spontaneous adventures. We experienced San Francisco and the surrounding area close to the ground, covering as much of it as possible.
The old adage that it is not the destination but the journey really kicks in by bike. We werent particularly concerned with getting there because we didnt know where there was. Adhering to a timetable seemed pretty irrelevant as well. Rather than spending an inordinate amount of time worrying about where to go, what to do, closing times and admission fees, the bikes served to change our perspective and expectations so we didnt end up doing the typical touristy activities. You can do all those things, of course; its just that we didnt feel any compulsion to. We instead indulged spontaneous decisions to follow this path or that bike lane in order to discover what was around the corner or over the next hill.
Our memories of that trip are about triumphing over hills in Pacific Heights, standing on a foggy scenic overlook on a winding road bordering Presidio Park, escaping from a pouring rain into the Beach Chalet for hot tea, and being among dozens of cyclists waiting to disembark the ferry at the Embarcadero. Wherever the bike route took us, we were just fine. No worries about finding a parking space or feeding a meter. If we felt like stopping for photos on the Golden Gate Bridge, visiting with a small herd of buffalo in Golden Gate Park or people-watching in Haight-Ashbury, then thats what we did.
Bringing my own bike benefited me on both practical and emotional levels as well. Renting a bike is almost as time-consuming as renting a car. With my own bike, I didnt have to fill out any paperwork and my bike was already outfitted with everything I need rear rack, bell, side mirror, headlight and red blinky light.
Bobs rental didnt come with a bell, mirror or lighting of any kind. We both use those features on our bikes and had we decided to pedal around at night, it would have been hazardous for him. Additionally, because I am short, I frequently have to make do with bicycles that are better suited to a taller rider. I knew what to expect from my Dahon, however. On monster hills, steep declines or wet pavement, there were no unpleasant surprises. Finally, with a rental bike or a bike share, you are responsible for returning within a certain period of time or incur a late fee. At the end of our last day, we hustled to get back to Bay City Bike to return the rental only to find that location had closed shop early due to slow business on a rainy day. Although a sign directed us to a second location, that shop had also closed early. Happily, our hotel concierge offered to return the bike the next morning for us and we werent charged a fee but the experience was a time consuming hassle when we could have been doing other things.
Im ready for the next trip with my bike and hope its soon. Whether or not you save money by taking your own bike probably depends as much on luck as the type of bike you are bringing. If money is an issue, a little advance research about what rental options or bike share programs are available would be in order. For me, the comfort, convenience and opportunity for spontaneity provided by my own, familiar bicycle outweighs what might not be more than $100 in additional travel costs.