The City of Prescott, Ariz. was kind enough to hold it's Independence Day festivities a couple of days early to give me time to take photos, write about it, and get my post ready to publish by July 4. (Technically it was the annual Prescott Frontier Days Rodeo Parade, but it looks and feels like a Fourth of July parade, which worked out to my advantage.)
Saturday morning I planted myself in a prime spot along the parade route, readied my camera, and waited for some kind of bicycle thing to pass by for me to photograph, and (I imagined) viola! Instant blog post for Independence Day.
I waited…
…and waited…
…and waited…
…and… Uh oh!
There, marching down the socialized street, was a reminder that I wasn't in my bike-friendly Arizona oasis. No, I was somewhere else Arizona. And not just somewhere, but Prescott.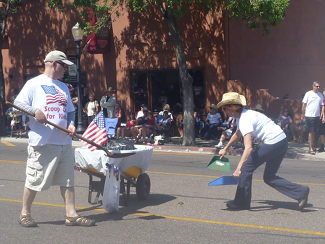 My hopes sunk. I began to think that there would be nothing in this parade but sources of horse manure and carbon monoxide.
Prescott is both picturesque and conservative, with its red mountains, cowboys and saloons.
But this is no theme park, it's the real deal. Stereotyped as "a good ol boy town where the rich and old run things."
Prescott was the original capitol of the Arizona Territory, and has a reputation for resisting outsiders and new ideas. (I should know; I married into an old Prescott pioneer family.)
Even the name of the town is a shibboleth. Locals say PRESS-kit, but tourists, newcomers, and carpetbaggers say press-SCOTT. The first time I ever heard the term Californication was in reference to the attitudes of Prescott old-timers towards their new neighbors moving in from the west. (This more than a decade before the album by Red Hot Chili Peppers, or the television series.)
So why did my expectations change at the sight of a Tea Party contingent?
It's that old, cycling-isn't-partisan…but-it-is thing.
But I'm a patriotic guy. I got into the parade anyway. I stood up every time the American flag passed by. I cheered when the Youth Conservation Corps marched by. I felt a sense of respectful awe when veterans of The Korean War and World War II rolled by. I made a smart ass comment when Ronald McDonald appeared–because dissent is patriotic too.
But then, down the street, heading in my direction… Could it be? Bicycles?
Yes!
Prescott Alternative Transportation, a local nonprofit, rolled and bounced by in circles and figure-eights, lifting my heart like a perfect wheelie.
And it was a broad swath of all kinds of cyclist–polo, BMX, roadies, commuters, cyclocrossers, tallbikers, beach cruisers, cargo bikers.
I was elated. Cum-bike-ya!
I hasten to say that I don't know a single one of these cyclists, so I do not know any of their political affiliations. And I don't–I really don't–care.
I didn't count them. I wish I had. But I'd bet you a Ponderosa IPA that there were more of these cyclists than there were marchers in the Tea Party brigade.
Furthermore–and I hope I'm not too far out on a limb here–I'd bet there was at least one person who had to make a tough choice whether to march with the Tea Partiers, or roll with cyclists. (To find out, I left a couple of messages for the head of Prescott Alternative Transportation. I haven't heard back.)
Prescott is not yet recognized as a bike-friendly city. But there are people working for and against that goal–and the people working for it will prevail.
Students at Prescott College have put forth a plan to make Prescott a better place for cyclists and pedestrians. Native-born locals are showing up and parading in numbers. One day a Bowdenesque conservative hero will arise to remind the old boys that bikes rolled through Whiskey Row decades before the first car ever did. Car culture? Isn't that a California thing?
(I don't know if that claim is true–about bikes predating cars in Prescott–but I'd bet you a Manzanita Red that it is.)
New York City is grabbing all the attention with its controversy over bike lanes. But NYC is always such a narcissist about everything. And whatever the outcome in New York, it's not going to be taken as a bellwether for the rest of the country.
If you want to scan America for the tipping points that show whether we are becoming a bike-friendly country, ignore New York; it can take care of itself. We should be keeping our eyes on small, traditional, American cities–cities like Prescott. Give the advocates in these cities a Yee Haw, or maybe even a few bucks.
I don't expect Prescott to change it's politics much at all in my lifetime. But I look forward to those bike lanes.