Minnehaha Canvas Saddle Bag
Size : Medium
Price : $69.99
Details :
Max. Dimensions: 9″L x 9″H x 11″W – 650 cubic inches / 10L
Thick hardwood dowel inside supports heavy loads
Main panel of bag is a durable sandwich of 1 1/2 layers of 18oz. canvas, thin padding, and an off-white canvas liner for a brighter interior.
Bottom reinforced with a riveted HDPE plate to keep bag from sagging under load.
Exterior lashing points (extra straps not included).
Detachable reflective tabs.
Interior key/wallet pocket.
Lately there is been a trend of the retro ways. Leather and canvas are making their way back into daily cyclist life with Brooks saddles, leather grips and canvas bags.
Canvas bags are what Minnehaha Bags are all about. Minnehaha is run by the same sweet guys at Banjo Brothers, these two guys really understand customer service and delivery product they believe in. Regardless of the amount of stupid emails I sent to them they always replied with an upbeat answer and sometimes even photos to explain what I was doing wrong.
One of the best looking (in my opinion) products in the Minnehaha line is the Canvas Saddle Bag, size Medium. The size of the bag is not too daunting when you look at it, there are some saddle bags that really are trunk bags hanging off your saddle. Yet, the size fit everything I could want plus had some room for things I didn't really need.
Lots of Room : Utilizing the capacity of this bag I commuted through February with this bag strapped to the back of my Trek XO cross bike. On a normal day I had two tubes, two tire levers, a mini pump, multi tool, spare blinky light, a rain jacket or thick thermal jersey, wallet, keys, phone and a snack. All of this was held inside the bag with room to spare.
Not so Idiot Proof : I'll regret this statement but I am not a fan of Brooks saddles. I have not been able to find one that worked for me one bit and the thought of riding one more than 10 miles makes me cringe inside. Brooks saddles do have their benefits. Mostly the built in rings at the back of the saddle that many higher and larger saddle bags are made to hang off of.
My saddle that I used to test the bag out with was a WTB Deva, which is considered a racing saddle by many.. Yes, they make adapters to clamp on to your rails to make it so you have these rings at the back of your saddle but the thought of clamping anything to my nice ti saddle rails felt like blasphemy to me. I installed the saddle bag as best as possible and left it that way until I was ready to finish the review. In an email to Mike at Minnehaha he told me the set up was all wrong. That instead of making one large loop over the seat rails I needed to make two smaller ones.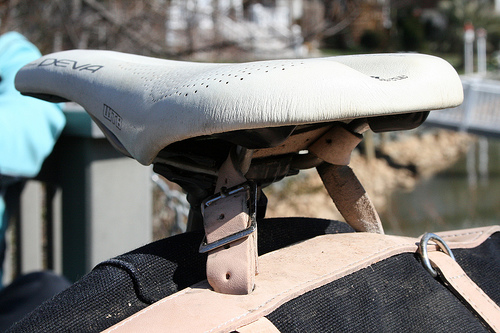 Incorrect strap mounting
The leather strap provided wasn't long enough to achieve the mounting that was recommended so I pulled out a handy toe strap from pedals I no longer use. As you can see below the toe straps are much longer, with out the needed holes to clinch down on I was able to also get the bag much tighter to the saddle.
When reinstalling the bag correctly I decided to move it to my Casseroll which will be seeing more commuter milage through the spring. The new mounting style and ability to really tighten down on the strap made a huge difference on how the bag swung around on the back of the bike. No longer did it rock back and forth or rub as much on the back of my legs.
Overall impression and final thoughts : I really enjoy this bag. Packing a lunch or my huge SLR camera is not difficult. The bag is not completely water proof so keep electronics and valuables in a ziplock bag. I went through torrential downpour a couple nights and had success with things at the bottom of my bag surviving Having the weight under you instead of on the front as most people like is better for handling. The price is right at $69.99 as it carries what I normally put in a pannier which runs about that same price.
We also have a Minnehaha Canvas Utility Pannier on review look for that in the upcoming week.