So, as some of you may know, I have been sent the Xootr Swift to do with what I will. Since, much to the chagrin of Jay, I have come to love riding fixed-gear and have forsaken the freewheel, I decided to turn this great little folding bike into a great little folding fixed-gear bike. What this will mean: First, a new hub. The Xootr has a 52mm chainline (distance from the front chainring to the center of the frame), so I can't just throw any old track hub on the bike, at least not if I want to use a flip-flop hub, with a fixed gear on one side and a freewheel on the other, so that friends can use it too. I need a hub with a 52mm chainline, laced to a 20-inch wheel. I've handed this task to Tony at IRO Cycles, who had the necessary hub in his truck.
That alone is the only necessary change. Everything else: pure style, and I'm still debating my options. Derailleur, shifter, padded saddle and stock grips are definitely out. I might go with a pair of straight handlebars, or I might go with bullhorns. Definitely a smaller saddle. I will probably remove the rear brake, but then again, maybe not, especially if I'm using it as a guest bike.
So, to all you shop workers, home mechanics and bike geeks, that's the plan. To those of you who don't know what all that means, or who don't care, or who just love visuals anyway (like me), I've photoshopped a little preview. Check it out:
This is what I have.
This is what I want.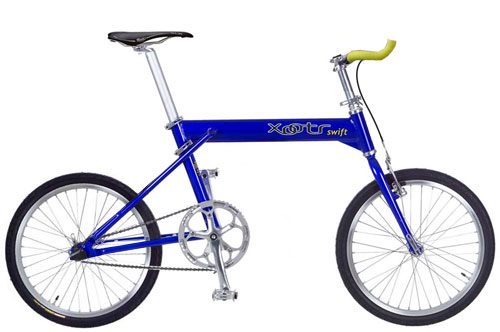 I'll be back with an update when I get the rear wheel. And, in case any of you were curious, it's pronounced "zoo-ter." I didn't know that either.