Put Briefly…
We're looking for someone who can make our bike shop thrive. We need someone who is experienced at all aspects or managing a bike shop on both the sales and repairs side. We need someone who will be able to manage and run all of the day-to-day activities from sales to bike builds to restocking to repairs to handling the phones to occasionally supporting the ecommerce side of the business.
The ideal candidate is someone who has a strong interest in taking leadership in and ownership of the bike shop side of our business. With our shop focused on outfitting bikepackers, not only does our bike shop manager need to be well-versed in running a bike shop, they also need to possess, or develop, a strong knowledge and practice in bikepacking and bicycle touring.
The Backstory and Following in Greg's Footsteps
Our amazing GM and bike mechanic, Greg, is moving on from Campfire Cycling at the end of April. So, we're hiring a bike shop manager to replace him.
Greg and I launched the Campfire Cycling Showroom and Repair Center in November of 2019. Greg was instrumental in getting our bike shop setup and settled in and in developing relationships with our Tucson customers.
It's been a strange time to start a bike shop. We've been fortunate to be helped along by the Coronavirus bike boom. We've also been hindered by not being able to get folks out to our out-of-the-way showroom with all the events we have been hoping to run. While it hasn't been normal times, we have been able to find our way through it all and establish some momentum to build from. And we've been fortunate to find a better retail oriented location in the downtown area which we'll be open for business at on March 23rd.
And while Greg is moving on from his full-time role, his strong presence and wisdom will still be felt around the shop. He'll be continuing on as a consultant for the bike shop. And as part of that he'll be helping to evaluate his replacement. Greg is relocating to Minneapolis where he'll be focusing on growing his small bike bag company Yellow Cat Industries which will be supplying Campfire Cycling with some handmade bike bags.
Why Work With Us?
For the right person, working at Campfire Cycling will be a joyful experience. Your efforts will have a direct impact on inspiring people to get out and adventure by bike.
For someone who loves bicycles, bikepacking and bicycle touring, this job puts you at the epicenter of everything great, from the products we sell, to the city that we are in, to our customers. This job is something special.
This is NOT your ordinary bike shop. Between our focus on bikepacking and our unique capabilities as ecommerce marketers, there are many exciting aspects of this business that you'll experience, learn from and be a critical part of. You'll work closely with a dynamic, talented team.
You'll bring critical experience and insight to our organization and be expected to lead our team through your knowledge.
You will become a bicycling advocate as part of what you do with Campfire Cycling.
Campfire Cycling is committed to creating a work culture where all identities feel welcome and comfortable in being and expressing themselves. We embrace all genders, ages, cultures, ancestries, ethnicities, races, colors, sexual orientations, physical abilities, learning styles, religions, familial statuses, marital statuses, occupations, veteran statuses, nationalities, citizenships, socio-economic statuses, and the many forms of composite subjectivity and life experiences.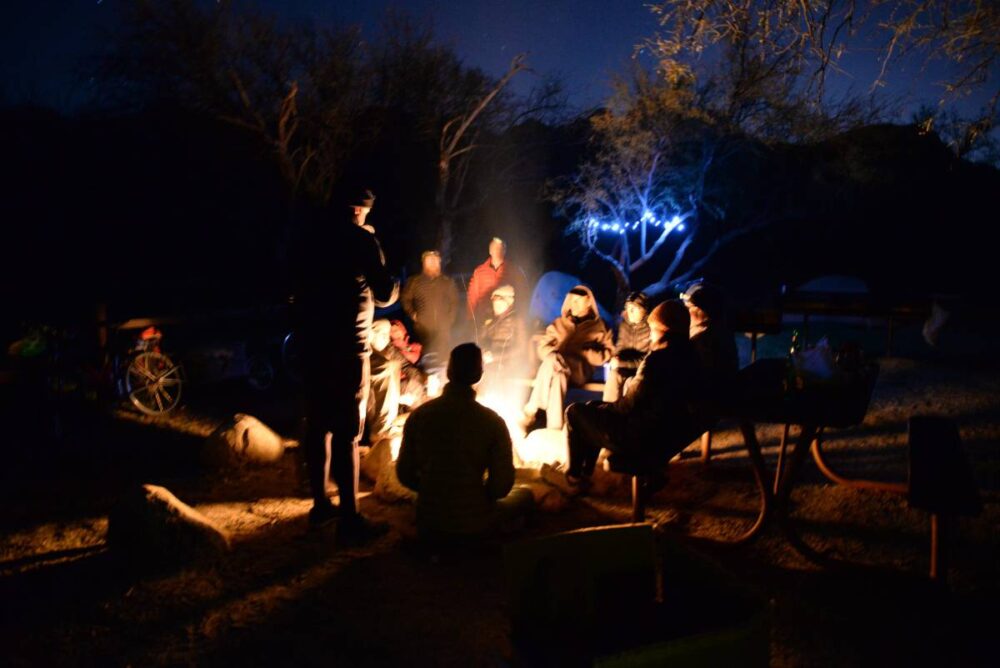 Your Contributions
This is a full-time position, Tuesday through Saturday where you will:
Management

Manage daily affairs of the bike shop.
Work closely with the owner, to grow Campfire Cycling into a sustainable, impactful business.

Bicycle Knowledge

Build stock bicycles.
Build custom bicycles and wheels.
Handle bicycle repairs.
Lead our bicycle sales effort.

Shop Maintenance

Reorder and restock bike shop inventory.
Maintain and clean the showroom and displays.
Reorganize and create new displays as needed.
Field bike shop phone calls.

Team Work

Backup the ecommerce fulfillment.
Advise the ecommerce and marketing team on technical questions and product recommendations.
Assist in hosting events and rides.
Your Capabilities
The right candidate for this role will be drawn to the opportunity to combine their creativity, professional skills and passion for cycling and the outdoors.
General Skills and Outlook:

You are an experienced bike mechanic (3 years minimum). You are very familiar and comfortable with all of the mechanical aspects of bicycles from components, to wheels, to frame alignment and materials to suspension.
You are a dedicated, possibly life long cyclist.
You are a passionate outdoors person. If you're not bikepacking or cycle touring already you're itching to start.
You are great with people. You can teach. You can lead. You understand the Campfire Cycling brand and are excited to grow it into a bike shop culture.

Business Skills and Aptitudes:

You are highly organized with great attention to detail, including being very diligent about maintaining safe, organized and clean working environments.
You have an ownership mentality with an inclination for entrepreneurial problem solving and learning.
You are a self starter with significant management experience.
You are a great communicator with customers and employees.
You are comfortable supporting your co-workers in their roles while also appreciative of the benefit of them supporting you.
About Us
We are a small team of cyclists focused on running a great bike shop with a specialty focus on bikepacking.
Salary & Benefits
$50k salary with opportunity for growth.
4 weeks (20 days) PTO.
Unlimited use of shop-owned bikepacking setup.

This is a full bikepacking setup that is stored in the showroom for display purposes. The bicycle and camping gear are primarily sourced from Campfire Cycling's suppliers. (Eligible after 3 months of employment)

Access to wholesale pricing and pro deals on cycling and camping gear.
Ready to Apply?
To apply please answer the following questions:
Why are you interested in this position?
Apart from family and friends, what 3 things do you value most?
How would your friends describe yourself in three words?
What stands out to you about the Campfire Cycling brand?
What do you enjoy most about working in a bike shop?
What is the bike shop that you most enjoyed being a part of? How would you describe the culture of that shop?
Please describe/summarize your current experience level with bicycle mechanics and service.
Name a company you find interesting and tell us why?
What's something you've taught yourself and/or learned on your own in the last few years?
Is there anything you've created that's public and online that would help us to get to know you better? (Blog, photography portfolio, videos, music, etc)
Why do you think you'd excel at this position?
Send your answers to josh@campfirecycling.com with the subject line "I'm your next Bike Shop Manager." Please include your resume.
Back to Jobs.