Moving into our new shop locale was our big story of 2021. As we embark on a new year, I want to reflect on the past year and also rattle off other 2021 Campfire and Tucson Cycling scene highlights. In case you missed it, a few weeks ago I summarized the news from around the bikepacking world that inspired us most.
Looking Up the Mountain
At the end of 2020, Greg and I were pondering our state of business affairs in our old, cold warehouse and he gave me some sage advice. In summary, get the business the hell out of that location ASAP. We had been there for 8 years, with the final 3 seeing our way through turmoil and a rebirth. The emergence of Campfire Cycling informed our decision-making, and the path forward was becoming increasingly clarified. Moving out of that non-retail-friendly, overly-priced space was the next natural step forward.
The prospect of moving was very daunting. Just like everyone, we needed every ounce of optimism and resilience we could muster in the face of the uncertainties brought by the global pandemic. We had to move two operations: an eCommerce warehouse and a bike shop, under the difficult circumstance of being an understaffed, 2-person business all while needing to move in March- the busiest period of the year for both parts of the business.
I got to work at looking at new spaces. As I did so, another confidence challenging situation got thrown into the fear cauldron: Greg let me know that an opportunity had come up for his partner elsewhere and he had to move on from Campfire Cycling in May. The pressure was really on now, and I got a fire in my belly to make this move happen before Greg was off on his next adventure.
Scoping It Out
The challenge in locating a new home was finding a space that was both retail-friendly and also had sufficient extra space for our e-commerce operations. When I looked at the space on Toole and Stone, it was pretty clear from the get-go that this was the space to beat. I struggled to find any other space that offered the combination of a nice showroom in a retail-friendly area with plenty of storage.
Being in Tucson's downtown made this location that much more appealing. And the building itself, high brick walls, wood floors, interesting neighbors, the train, the murals – we had found our new home.
We formed a plan to move the warehouse over one weekend, operate between both spaces for a week, then move the showroom over the following weekend. Rather than hiring a moving company, I decided to recruit friends of the shop. This was going to be a rough push and I wanted the energy of people who cared to help push it forward.
Moving Out & Moving In
The week leading up to the move was a mad dash to plan out a smooth transition of our 80 or so 7′ tall rivet shelves into the basement (aka the dungeon) of our new spot. We had to take everything off the shelves, put it in a labeled box, take the plywood shelves out of the frame, load it all up in the UHaul, drive to the new location, carry it all down the stairs, and put it all together in the right spot to be able to find it again. The process would take the crew of 5 of us, 3 long days.
We gathered up on Saturday morning, ate our donuts, and got to work. That first day was awkward as our muscles acclimated to unfamiliar work. As I trudged on and on and on between our old and new warehouse, descending those stairs into the new warehouse, I started thinking I was doing my version of the AZT.
Recruiting friends of the shop was the right move and we had a high-energy crew that rallied together and made this arduous move as fun as it could be. We kept ourselves well-fueled with tacos, pizza, and more donuts and pushed through. By mid-day Monday we were mostly done and able to hook up our shipping computer and package up our first shipments from the dungeon.
That week was a bit of a blur as we ran back and forth between our two locations keeping things running in both spots. On Saturday, it was time to move the bike shop and showroom fixtures. We started with the displays and bicycles followed by tools and benches for the shop. We got that done in 2 days then managed to get the shop displays mostly set up on Monday.
By Tuesday we were operational in the new location! The whirlwind feeling of the move was both exhilarating and exhausting. I recall a moment standing in the new space with a train running by and the sun shining in the door when the energy and motion of the new location made me feel dizzy with exhaustion and excitement.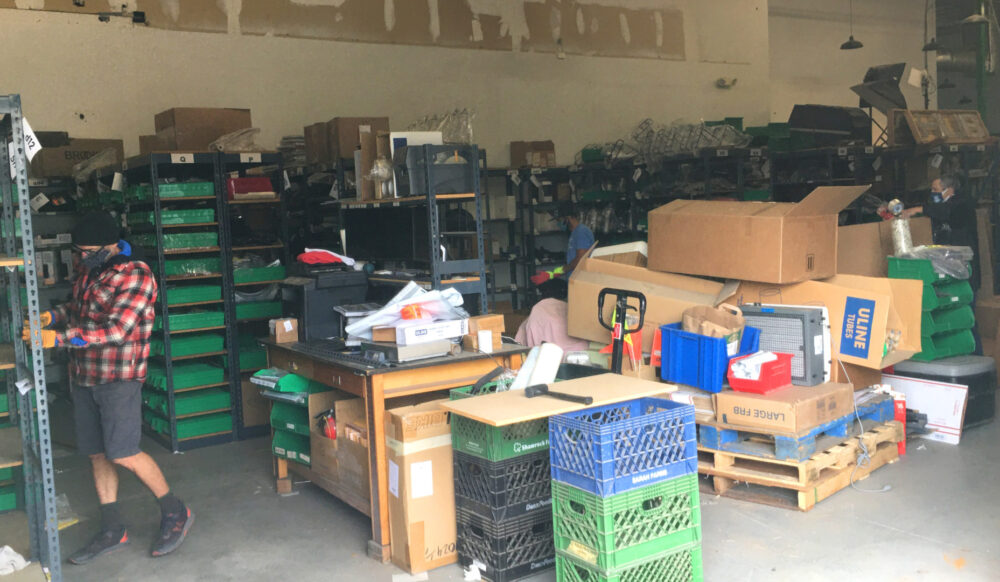 Thank You Moving Friends, You Rocked It Out!
Thank you to everyone that pulled together for this move!

My old friend from Flagstaff, Brad, showed up with rock star energy to power us through that first weekend of drudgery, moving warehouse shelves. Alan brought maniacal speed and efficiency that first weekend and helped with all sorts of clean-up and settling-in projects the weeks following. My father-in-law Ray helped with driving and then shipping for several weeks during that rocky transition. Alexander lent his steady hand to the warehouse and showroom moves as well as the final clean-up. Mike joined us for the shop move and then just kept showing up, cheering us up, bringing business ideas and lending a hand until we finally brought him on the team. Tomas brought us good stories and encouragement throughout the shop move. And Daphne gave us a nice push in between her nursing shifts. Nathan was there for those last days of moving the shop when we needed that extra push. And of course, Greg was there throughout, tirelessly keeping things moving forward, to leave the business in a far better position than when he started at the launch of Campfire Cycling. And finally, my wife Melanie was behind the scenes with her endless energy keeping our household running smoothly while I plunged too much time into this move.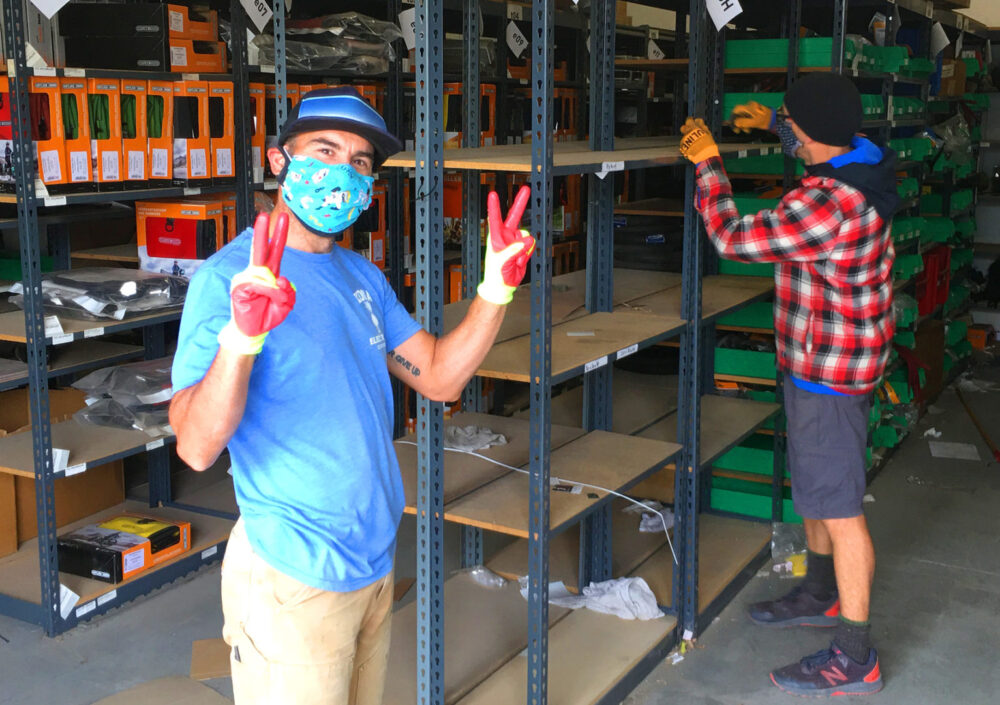 Getting Settled
Getting moved this year set the tone for everything to follow. The crew that helped us move and the new crew that we brought on afterward, put a fresh spark and perspective into Campfire Cycling. Getting to know our neighbors and being welcomed by cyclists in the neighborhood has been wonderful. And after settling in and surviving construction on our street over the summer, things came together for an affirming fall season in the shop.
After the shop and showroom were moved, I was exhausted. But there was no time to rest. I had three major tasks still weighing on me: 1. Clearing out the old space, 2. Hiring Greg's replacements, 3. Get everything working in the new space.
While the bulk of the move was done, getting cleared out of the building by the end of March was yet another monstrous task. 8 years of misc. junk to deal with took me the last weekend of March to clear out. Sifting through piles of junk and sweeping up the remaining debris was a painful, ponderous task.
I had found a little time before the move to post up two new positions to replace Greg's multi-tasking role. The week after the move I was diving into interviews and by early April, we'd hired a new shipper. And by mid-May, our new shop manager, Toby, was working his first shifts at the shop.
Quickly getting the new space fully settled kept us busy throughout the summer. The list of tasks was long but approachable. Organizing and reorganizing, hooking up equipment, getting bids on lighting installs, signage, painting, etc.
More Campfire 2021 Highlights:
Toby Joins the Shop!

Finding a bike shop manager to bring the stoke to our new location was imperative! Toby has brought bike shop management expertise in spades, overnight lifting the spirit of Campfire to new heights! I should also note that Toby is a big fan of exclamation points!!!

A Return to Our Rides and Events

With the vaccine and better information about how COVID spreads, we decided it was time to get back to running events as long as they were outdoors. We kicked off our overnighter series, our monthly breakfast by bike rides, and hosted our first shop gathering, though to keep things safe we ran this event down the street at Borderland's patio.

A Kick-Off of Campfire Custom Builds

With all of the supply chain issues, supplying complete bicycles has been difficult, to say the least. Within all the turmoil, we've been finding ourselves doing more and more custom builds. And with our in-house photographer, Mike Leland, taking some stunning photography of these builds, we decided we should expand upon this offering.
Notable Tucson 2021 Cycling Scene Happenings
Babad Do'ag Route

Kudos to Spencer Harding for putting together this lovely bikepacking route that travels through the heart of Tucson before departing into a circumnavigation of the Catalinas. See an excellent write-up and a hand-drawn map by Monique over at the Radavist.
Opening of the Patagonia Lumber Co.
Tucson Bike Swap Returns

With the bicycle industry on overdrive throughout the pandemic, we wondered if anyone would have anything left to sell at this return to bike swapping after a two-year hiatus. It was a good showing with plenty of buyers, sellers, and bicycle swapping to be had.