Does going for a long bicycle ride and then camping out sound like fun?  If it does maybe you should try bicycle touring.  Here are a couple of recent articles to get you started.
How to Start Bicycle Touring by Mike McLeish on September 4, 2017
Line Gammelli – The Lessons She Learned From Her First Two Bike Tours by Darren Alff on August 29, 2017
For the camping out part, here is an interesting new tent designed to store your bicycle inside with you while you sleep, protecting it from the elements and theft.  There is a version for road or mountain bikes.
Sleep With Your Bike In This Roomy Cycling Tent: Review by Hurl Everstone on August 3, 2017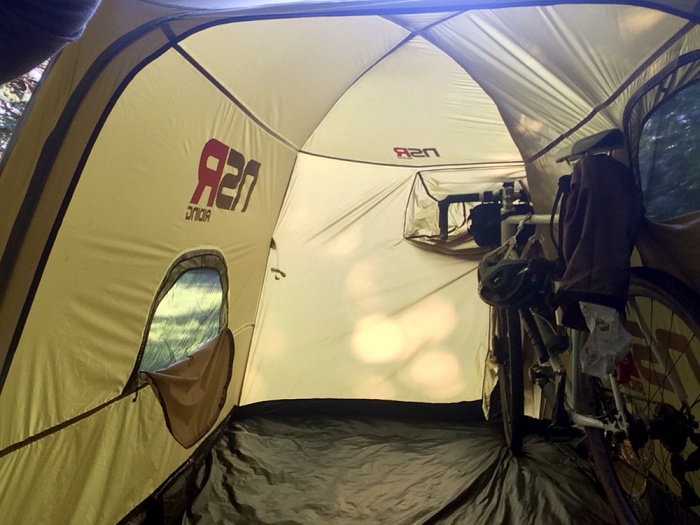 While just going for a ride and camping out is one great way to get started bike touring, many folks also like to add some plane travel into the mix.  In that case you'll likely need to pack up your bike.
How To: Pack a bike for travel in Bicycle Times on August 15, 2017
Now for a bit of inspiration in the following inspiring journeys.
Spending Labor Day Weekend Bicycle Touring Point Reyes National Seashore in The Radavist on September 4, 2017
How To: Tour Cuba by Bike by Colt Fetters on July 13 2017
Northern Sweden By Bike: Our 2017 Group Bicycle Tour From Umeå to Luleå by Darren Alff on August 28, 2017
Video: The Japan Long Haul – Bicycle Touring From Tokyo to Hokkaido in Cycling Tips on September 1, 2017
Mark Beaumont likes to add racing into his bike tour.  In fact he likes it so much he just keeps going and going all the way around the world in only 80 days, averaging 240 miles a day.
Cyclist Mark Beaumont breaks around the world record in The BBC on September 18, 2017
And finally a little philosophy from Darren Alf.  Skip ahead to minute 18:00 if you'd like to get straight to his inspiring message about living like a millionaire.
Do you know of any noteworthy, interesting bike touring stories that we missed from the last month or so? Please do share them in the comments below.
Or if you have any recent personal bike touring adventures to share we'd love to hear about those as well.