Until we moved to perpetually sunny Arizona, sunglasses were an occasional accessory, purchased at Target to wear while driving or at the rare trip to the beach. I just didnt put much thought sunglasses and because I tended to lose them so often. During undergraduate school, I quickly lost the only pair of expensive sunglasses I ever purchased, a pair of Ray Ban Wayfarers that I couldnt afford. What a waste. And like every pair of sunglasses Ive worn before and since they constantly slid down my nose and fell to the ground. Since then, I have never paid more than $15. I just didnt see the value.
Then came our move to Arizona and my relationship with sunglasses became one of necessity. In Flagstaff, where we lived the first five years, I became an avid, though not particularly skilled, cross country skier. Sunglasses were essential because of the glare of the sun bouncing off the snow, which often covers everything from November through March. I was warned against going out in the snow without good sunglasses, especially if I was out in the forest skiing because of the potential for snow blindness. Since it was in Flagstaff where I began commuting to work and everywhere else by bike, I soon never left the house without sunglasses to protect my eyes from the sun, wind and insects while pedaling up and down the communitys many hills. Though I learned to be less careless about losing my sunglasses, I still bought Target sunglasses as they were going to slide off my face to the ground and break anyway. Besides, sunglasses, and eyewear in general, tends to give me a headache behind my ears. Why would I pay a lot for that?
Now in Phoenix, I dont worry about snow blindness but I almost always leave the house with a pair of sunglasses because the light is so intense. I am never without sunglasses here in Phoenix and last year picked up five pairs for less than $10 each at Rosss so that Id never be without. Thus far, Ive managed to hang on to four pairs but they still slide down my nose, fall off, and give me a headache.
Knowing I would need to replenish my stash within the next 6 months, I jumped at the chance to review the Ryder Gia Standard and Polarized sunglasses. My husband has a pair of Ryders (the Face model, in the standard lens) that he purchased for his Ironman race a few years ago and loves them I wasnt paying for them so what could I lose. To be honest though, I wasnt expecting much.
It turns out, however, that I underestimated Ryders considerably. Ryders sent me two pairs of their Gia sunglasses, in the standard and polarized versions. Both pairs impressed me for lightness of weight, flexibility of the frame, and secure but extremely comfortable fit.
The frames are made of a thermoplastic for durability, flexibility, light weight and performance. The frames are indeed pretty tough. Ive dropped them countless times and not only have the stems and lenses remained intact, there is not a scratch on the frames. And while I have no problem dropping my Ryders, unless taken off, the Gia are pretty much on your face to stay. Hydrophilic nose pads and temple plates provided the secure fit that prevents the frames from sliding down your nose or falling off during activity. According to Ryders website, when the material comes into contact with water or perspiration the pads and temple plates grip the contact points even more securely. I can attest to this as the Gia frames never slip, even when Im mopping perspiration off my face under Phoenixs scorching summer heat. And despite the secure grip, Ive experience no headache or other discomfort while wearing them and I wear them all the time, since they are so light weight that I usually forget I have them on until someone asks me if Im going Hollywood.
As mentioned before, Ryders sent me two pairs of Gia sunglasses. Both the polarized and the standard lenses come in solid black and in blue and black. The blue and black pair has brown polarized lenses, which reduce glare while increasing definition. The black pair has standard grey lenses with a flash coating for a slightly mirrored effect. According to Ryders the purpose of the flash coating is to reduce the intensity of direct sun light or glare by reflecting the light before it reaches the eyes. Ive never used polarized or mirrored lenses before so I had no specific expectations other than what was described on the Ryders website. I tested them out during my walks, bike rides and trips in the car, often switching them out to note the differences. The polarized lenses cast a slight yellowish tint on what was before me, while the flash coated lenses simply made things a bit darker but still natural. I probably preferred the darker, natural view of the world but have to admit that when I tested the claim of improved definition by comparing the optical effects on glare created by each when looking a sparkling swimming pool or the shiny chrome on our car, I definitely found the polarized lenses reduced glare significantly. Regardless of the type of lens selected, all are scratch resistant and engineered to eliminate optical distortion thus increasing comfort and reducing eye fatigue
While pricier than what Ive paid for sunglasses in the past, the price point remains pretty modest for the quality compared to a lot of other high end sets that cater to people who bike, run and ski. I fully intend to replace remaining four set of cheapo fashion sunglasses with some of Ryders other womens styles such as the Gatto, the Empress and the Hayden. Ryders has a huge selection of frames and lens combinations for both men and women, including sleek, wraparound sunglasses favored by triathletes. According to the website, Ryders sunglasses are priced between $39 and $79. The Gia in the polarized lens are priced at $79.99, while the Gia in the standard lens are marked at $49.99.
---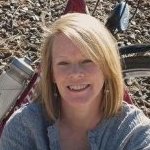 Karen Voyer-Caravona is a some-time city cyclist living in Phoenix, Arizona. She is a founding member of Phoenix Spokes People, which is dedicated to promoting bicycling as a viable transportation option in the city of Phoenix. When she is not conspiring socialist plots against her city's infamous car-centric culture, she is studying for her masters degree i
n social work at Arizona State University.