Dorcy Hawkeye Bicycle Lighting
Somewhere out there exists market research that identifies the primary purchasers and users of bicycle lighting. I couldnt find that research after a five minute Google search but Im too stressed out to look for it. As a graduate student in my final semester of school, I know how to find such research but this evening, the night before the beginning of spring classes; I just cant bring myself to conduct a meaningful search. So for now, lets just go with my untested theory that women are the main users of bicycle lighting. I base this otherwise baseless claim on my own anecdotal evidence only. My husband, for example, would likely have no bicycle lighting whatsoever were in not for me purchasing it for him. Likewise, I gave my cousins husband some bike lighting when he purchased a used bike several years ago because I just happened to have some extra lighting lying around our garage with all the other stuff that Commute by Bike asks me to review.
Finally, I believe that I read unscientific research re-posted by some other blogger that stated that women are more concerned about bike safety as compared to men; and lighting is a safety conscious purchase. I will concede that those people who have 10 20 lights, red blinkies and gerry-rigged directional signals attached to every free inch of their bike frame are all men, but that is an exception for which I have no explanation. So there; not exactly evidence- based but its the night before my final semester of grad school; I have nothing to wear tomorrow; I feel a headache coming on; and Im asking you, Reader, to just go with me on this one.
I do have quite a bit of lighting and I was happy to test some more. The Dorcy company sent Commute by Bike two products to test the Dorcy Hawkeye 220 Lumens Personal Light and the Dorcy Hawkeye Tail Light.
The batteries died in the headlight that came with my Brompton so I decided to switch that out for the 220 Lumens model. Meanwhile, my husband Bob needed a red blinkie for the rear of his bike. We both own his and hers versions of the Breezer Uptown 8 and the lighting has always been very inconsistent. Bobs tail light has been out for at least six months and nobody has been able to repair it so I thought this would give a great opportunity to test the Dorcy tail light. We tested the lighting together on December 22, 2013 for the Phoenix Spokes People Willo Neighborhood Luminaria Ride.
The Hawkeye Head Light
The Hawkeye Head Light is a handsome, aluminum alloy 220 lumens light that attached easily to the handlebar of my Brompton with a quick-release adjustable bracket clamp. The clamp is adjusted to fit the handlebar with a turn-screw large enough to manipulate even with gloved hands.
A second turn-screw, found under the light sleeve of the clamp, allows the rider to quickly remove the light when off bike to use as a flashlight.
The light gives off a large rectangular shaped beam with two modes, steady and flashing. Light also emanates from each side of the headlight, providing extra visibility of the rider for other traffic approaching from a cross street. The light, powered by three AA batteries, turns on and off by pushing rubber booted button at the rear of the light.
The Dorcy Head Lights beam proved to be quite bright and spreads horizontally across the width of the urban residential streets that we traveled on. In addition to the luminaria ride, I tested the light against a masonry wall outside our house at night, comparing it to the NiteRider Mako 3.0 that is normally attached to my husbands bike. The Dorcy's rectangular beam out-shown that of the NiteRider Mako 3.0s more traditional circular central beam.
During our ride however, Bob noted that he preferred the NiteRider light because its spread reached
extended further off the road. I tested for this again on our masonry wall, and indeed this was the case.
The extended reach may be an issue in some circumstances. I used the NiteRider light extensively when we lived in Flagstaff, a Dark Skies community with large expanses of open and partially forested space without any type of street lighting to illuminate things off the road things like enormous elk, bears, mountain lions, and, more importantly, skunks. Skunks are a hazard in Flag; they are everywhere. More than once, the very wide beam saved me from what would have certainly been a deadly skunk spray. When in Flagstaff, Telluride, Aspen or Bend, go with the wide beam. Nonetheless, in Phoenixs busy car-centric universe, where I have yet to encounter a skunk (although I did see a large coyote running past our house last month in the middle of the day), I do prefer the brightness of the Dorcy Hawkeye.
The Dorcy Hawkeye Head Light can be found on-line for from between $39.99 and $55 and in my opinion is worth consideration, especially if you do a lot of bicycling at night and not concerned about skunks waiting for a sneak attack off the side of the road.
The Hawkeye Tail Light
Since nobody has been able to resolve the wiring issue on my husband's bike, Bob has been clipping a NiteRider CherryBomb 1Watt tail light to the belt loops of his jeans whenever he is pedaling after dark (reinforcing my previous theory that mostly women fret about lighting, I usually hand it to him as he is walking out the door). For the Luminaria ride I planned to attach the Hawkeye Tail Light to his seat post. The packaging indicates that the LED light has flashing and steady light modes that can be seen from 1 mile away and that it is easy to install.
The red reflector has three bulbs, lit with two AA batteries that are included. The tail light slides easily into a quick release adjustable bracket clamp, similar to that of the head light.
Unfortunately, we couldnt adequately secure the bracket clamp to the seat post. Even when attempting to tighten the turn screw with a nickel, we couldnt get it tight enough to prevent the tail light from sliding down the seat post so low that it would be partially obscured by the rack over the rear wheel. The tail light doesnt have a clip either so Bob couldnt wear it on his jeans.
I found a couple of other issues with the Hawkeye Tail Light as well. First of all, the batteries fit underneath the bulbs. A transparent plastic cover protecting the reflector and bulbs secures to either end of the base of the light with a tooth-like projection.
I had to use a quarter to remove the cover and was very worried that the effort would break the teeth and render the cover useless, thus ending my product test before it had even begun. I found it impossible to remove the cover without the use of a quarter.
Next, once the batteries were installed, the tail light illuminated inconsistently. The first time I pressed the button, located on the backside of the base of the light, it lit and flashed just fine. The second time I tried it a few days later, it took several attempts to turn on the light. When I again tried to turn on the light prior to begin writing this review, only two of the three bulbs illuminated.
In any case, I did have a chance to compare the Hawkeye Tail Light, which retails for $13.99 with the NiteRider CherryBomb, which sells for anywhere between $24.99 – $30. Hands down, I find the CherryBomb to be a superior light, and worth the extra price. Certainly, the Dorcy Hawkeye Tail Light I received for review was probably just a bum light and that another one would have worked just fine. However, the CherryBomb just delivers, in my estimate, a sharper, brighter light that really zaps and catches the eye. Plus it can be worn, secured to a pannier or attached to the seat post of a bicycle. Weve had the light for a few years now with no complaints, even having other people remark on how visible it was from afar.
Final Thoughts
I had never heard of Dorcy before but they make a lot of lighting from flash lights to lanterns to small keychain lights. The company sent me a catalog of their products along with the two lights and I couldnt find any bike lighting within. I checked out their website and had a do quite a bit of searching before I found any bike lighting. Had I not had their lighting in hand, I would have given up my search of their website and assumed they just didnt sell such products and head over to see the latest offerings from NiteRider. Not knowing anything about the company, bike lighting might be a new area for them and if it is, I strongly suggest they have a bike lighting category on their website. As anyone who has read my reviews knows, I love gear that comes with instructions because installing and mounting lights, bike racks and bike umbrellas to my bike is not an intuitive process for me.
As a woman who admittedly prioritizes lighting and the added safety and security it provides when Im biking at night, I appreciate written and visual instructions for quickly attaching those products to my bike, and I just couldnt find any on the Dorcy website. I am fairly familiar with these types of mounting systems at this point in my bike product review career but a lot of women just starting out on an experiment in transportation cycling might not be and would probably equally appreciate instructions on the packaging and the website. Having to ask my husband to perform these tasks for me is just a tiny bit irritating, especially when he considers me a capable adult and wonders if Im just being lazy.
In closing, Bob and I have seen a lot of people biking here in Phoenix, as well as at our previous home in Flagstaff, biking after dark with no lighting at all, sometimes not even reflectors. Biking at night is just nuts. Overwhelmingly, the chief offenders are young men. In the last six years of biking for transportation, we have both become very conscious of bicyclists. Despite this, I cannot tell you how many times when in our car we have suddenly come upon a cyclist without lights well after dark, sometimes even passing us from behind as were accelerating through a green light. Were paying attention and still caught off guard. Please get lights for your bike. Even an inexpensive light is better than no light but in my opinion, a $50 dollar battery light is worth the investment. Good lighting, for the front and rear of your bike, allows you to see and be seen. They are equally important and could save your life.
---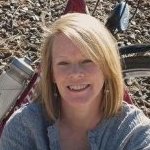 Karen Voyer-Caravona is a some-time city cyclist living in Phoenix, Arizona. She is a founding member of Phoenix Spokes People, which is dedicated to promoting bicycling as a viable transportation option in the city of Phoenix. When she is not conspiring socialist plots against her city's infamous car-centric culture, she is studying for her masters degree in social work at Arizona State University.