As a sometime product reviewer for Commute by Bike, you might recall that Im always ready to try out a new pannier or bike bag, especially one thats smartly designed, functional and attractive. Of course, I was happy to try out my fourth Detours product, the Ballard Market Pannier.
Seattle-based Detours, named the bag after the citys Ballard neighborhood, home of one of the best farmers markets in the Northwest, and I suspect the product designers had that destination in mind when they created this pannier.
Ive been using the Ballard Market Pannier extensively since the company shipped it to me this past spring. The product is multi-functional and since it converts to both a tote bag and a backpack, Ive used it on and off my bicycles, in addition to it serving as my carry-on bag for our recent trip to Rhode Island.
Product description
Detours sent me the grey pannier with the dahlia graphic on the front slip pocket. The waterproof, nylon bag is lightweight yet strong, and wears well even after months of use it still looks like a brand new pannier.
As I mentioned above, the pannier is actually three bags in one. The long padded handles allow the user to carry the pannier as a tote off-bike. Hidden padded shoulder harnesses located at the front slip pocket can be extended and adjusted so the bag can be worn comfortably as a backpack — an option Ive chosen quite a bit.
Detours added structure and stability to the Ballard Market Pannier by including a black, plastic mold to the bottom exterior of the pannier, which I find makes it easier to find items that fall to the bottom of the bag. Slip pockets on either side of the bag proved handy places to stash sunglasses, my mobile phone and my water bottle. Two sturdy pannier clips are located under a zipped panel that can also act as an additional pocket as well as preventing the clips from snagging clothes when carried as tote.
Detours also included a bright yellow waterproof cover that can be easily slipped over the pannier in rain, which we occasionally get here in Phoenix.
The interior of the bag includes a zipped pocket and a key clip, a small feature that I always appreciate when I come home from school after dark. A nylon drawstring closure just inside the top of the bag adds another layer of security, preventing items from exiting the bag when it gets tossed about in the course of hasty travel.
Findings
As it happened, I received my Ballard Market Pannier shortly after my friend Lisa purchased hers. We met for lunch last month at the Phoenix Public Market to compare notes. Lisa carries her Ballard everywhere. In fact, I almost never see her without it.
Like me, Lisa pedals a folding bike; in her case, a vintage Raleigh Twenty. Both our folders have rear racks but, unfortunately, the pannier clips on the Ballard dont securely attach to the slightly odd shaped frames of our rear racks. Lisa puts her Ballard snuggly in a large wire basket attached to her handlebars, and off-bike she carries the pannier as a tote.
I, on the other hand, wear my bag as a backpack when Im on my Brompton. When on my Breezer though, the pannier clips attach very securely to the bike rack, and removal upon arriving at my destination is quite easy.
Both Lisa and I find we can fit quite a lot in our Ballard bags. We removed our items over lunch and had to laugh at all the items we considered indispensable. My iPad is almost always tucked inside, as well as my wallet, a small makeup bag, a camera, a City bus route map and lunch.
Both Lisa and I are very petite in stature, so we agree it would be nice to be able to adjust the long tote handles to a shorter length when carrying the bag as a tote since it hit us mid-thigh when were walking. Wed also like the body of the bag to have a bit more structure when it sit on the floor or other flat surface rather than flop over. However, that is a minor thing and the soft structure is convenient if the bag needs to be crammed into a tight area (such as under the seat in front of you on a packed airplane).
Overall rating
If I were rating the Ballard bag on a 1 5 scale, Id give this bag a 4.5. After three months of heavy use, the bag still looks like new and it carries a lot of items. Ive taken it to the grocery store, school, my internship, the gym it holds a lot of items.
Rarely, have I found that I needed more than one bag. I love that I can easily carry it as a tote of backpack as well. When Im carrying a lot of items, being able to switch it over to a backpack is especially welcome.
I also like it that the Ballard Market Pannier comes in two solid colors, as I think most men would find the dahlia graph too feminine for their taste. If you are a fan of Detours, which I long have been, the Ballard Pannier is not going to disappoint.
Its another one of the well-made, dependable, attractive products that offers users plenty of options on and off bicycle. At $69, it might seem a bit pricey but if you are looking for a good bike bag, the Ballard Market Pannier can serve as three bags in one and will hold up year after year.
---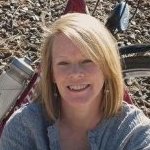 Karen Voyer-Caravona is a some-time city cyclist living in Phoenix, Arizona. She is a founding member of Phoenix Spokes People, which is dedicated to promoting bicycling as a viable transportation option in the city of Phoenix. When she is not conspiring socialist plots against her city's infamous car-centric culture, she is studying for her masters degree in social work at Arizona State University.