Campfire Cycling moved to Tucson, Arizona over the weekend. While my co-workers moved five big truckloads of inventory and office equipment, I was entrusted with delivering our rotted and weathered picnic table.
Tucson Commute  1
I commuted by truck with this precious cargo more than 250 miles in our company's gutless Mazda, and brought them both safely to their new home.
So this week I begin my extended stay in Tucson, Arizona, which means…
I'm starting from scratch as a bike commuter in a new city, which means…
It's an opportunity to experience the apprehension of many people who come to this site because they want to try bike commuting for the first time — but hopefully not make the rookie mistakes.
It also means that my commute has been lengthened from 1.7 miles to… Well, I measured it yesterday when I drove the truck to our new location from the house where I'm staying. By car, it's 9.7 miles.
Tucson Commute  2
The bike I chose to bring to Tucson, is the Critical Cycles single speed with the E-Bike Kit. (Voted by readers two-to-one over my Murray Monterey.)
Like a good first-time bike commuter, I spent some time planning.
The night before, I looked at my routing options on Google Maps.
The shortest route was 9.9 miles, mostly on surface streets with bike lanes. The longest route was 12.4 miles, mostly using multi-use paths along the Rillito River (part of Tucson's "The Loop").
Although it's 2.5 miles longer, the route along the river sounded so much more pleasant. So I decided to be ambitious.
In the morning, I did a more thorough inspection of my bike than I would have done back home. (Because back home, I often walk to work anyway; I don't really care if I have to push the bike. But with a 12-mile commute, I do care. I care very much.)
This bike belongs to Pete Prebus, who reviewed it as a fixie — and from the looks of the rear tire, he did some fixie skid stops, including one really impressive one.
I decided to risk it.
(Mental note: Ask Pete Prebus what the hell he's been doing with this bike.)
I strapped on a saddle bag loaded with a multi-tool and a patch kit, and moved my tail light to the back of the battery bag. I realized my mini pump is 250 miles away.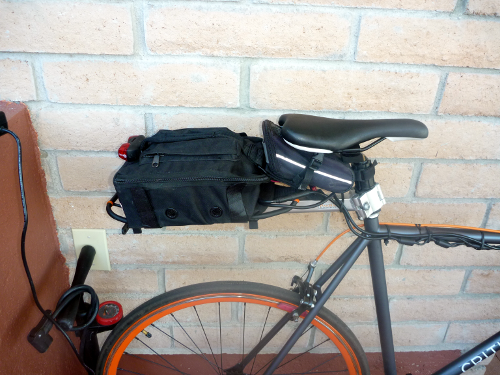 At 7:15 AM, I clipped in with ample time to get to work, and then hit the road.
Just getting to the river path was as long as my old commute. I mingled with traffic, signaled my intentions, and made frequent use of my helmet-mounted mirror.
Once on the path, it was glorious. No cars; just people on bikes, roller skates, runners and a beautiful morning.
I just followed the path, and enjoyed the ride. I hardly used the electric assist at all. The path went under almost all of the street crossings.
After about half an hour, I figured I might be halfway to work, so I started watching for Flowing Wells Drive, which is where I would need to emerge and mingle again with motor traffic.
My mental map of Tucson is pretty weak, but I just had to remember Flowing Wells Drive. I pedaled on.
Flowing Wells Drive? Where are you Flowing Wells Drive?
I reached the end of multi-use path. Hmm…
I hopped onto River Road, and continued going west, still looking for Flowing Wells Drive.
I reached Interstate 10.   I knew I was officially lost.
The bike lane on River Road had disappeared. The motor traffic was noisy and menacing.
I rode on the sidewalk. God forgive me.
I paused under the Interstate overpass to collect my thoughts. I tried to use my phone. The battery was dead.
Lost in a strange city with no cell phone. The horror.
I remembered an African saying I learned in the Peace Corps: A man with a mouth is never lost. Find a local and ask directions.
But currently all of the locals were speeding by in metal machines going 40 mph.
My instincts told me to go to the West side of the Interstate and see what was there. I was pleasantly surprised to find another bike route, which I followed south.
Way up ahead I saw some cyclists using the path. I had a hard headwind. If I wanted to ask for directions, I'd have to catch them. I pushed on the electric assist and held that sucker on full throttle — which maybe helped me to go 18 mph instead of 13 mph.
I couldn't catch them — they were roadies in aero mode. But I came across a couple of slowpoke cyclists and they gave me directions.
Further down the path, I came across a post-apocalyptic looking bike shop in a shipping container, called Tucson's Loop Bicycle Shop. Even on this side of the freeway, with the helpful slowpokes and the minimalist bike shop I was not alone. It made me feel good about Tucson.
If you are keeping track, I've made two or three rookie mistakes.
No ability to repair a flat or call for help: I should have had either a mini pump or made sure my phone battery was fully charged — preferably both.
Failure study my route in advance or bring a map: It turns out that the name of the street I was looking for was La Cañada Drive. The Google directions told me so, if I would have read them. The name of the street changes to Flowing Wells Drive further south.
By the time I made it to the office, I had traveled 19.8 miles.
Let me repeat that: I had a 19.8 mile bike commute today.
I'll be taking the short way home — via local bike shop to replace that tire, 'cause it's about to blow.
---
UPDATE 4/17/13:
I said it was about to blow. It blew.
I was about 1.7 miles from work, and I walked the bike another 1.7 miles to the nearest bike shop, Trek Bicycles of Tucson. Funny how that 1.7-mile thing keeps coming up — as if to remind me that this new commute is multiples of what my commute was back in Flagstaff.
I had the bike shop put on the new tire and tube, and I bought a new patch kit. The whole experience cost me $45 — because I bought a really cheap tire. Sorry, Pete.
That price also included a locally made Julie Bar — which was delicious. I also picked up two maps of the area. I still need to get a frame pump. If I owned this bike, I'd probably get an extra couple of tubes to bring with me.
Today I made it to work without getting lost. There was serious headwind all the way in, and I used the electric assist a lot.
Two roadies drafted me for about five miles. That's never happened before — because I never had a commute like this before, I suppose. I realized why some people find it so annoying. But I realized that either (a) they knew I had an electric assist and drafting me meant they too were "cheating," or (b) that they thought that older guy on the single speed is really kicking ass. When I split off, one yelled, "Thanks for the ride!"