I don't come from a family where cycling was a big deal. But I kind of do.
Leading up to Father's Day this year, I've been reminded of how fathers and bikes have factored into my psyche.
I got it from both sides of my family. Unlike me — cycling nearly every day like I'm trying to make a point — my father and my grandfather (on my mother's side) had bikes, and used them. They didn't make a big deal about it.
Last year I wrote about how my parents always made sure that I had a bike at each of their homes. But I'm pretty sure my dad always had a bike of his own too. He taught me how to fix a flat, and gave me some incredibly cheap pierced metal bike tools. I mean, why would you give a kid good tools when you know they're just going to lose them?
Here they are:
I still reach for those tools in a pinch. That's all that remains of a set of four or five.
The thing is, I don't remember being taught much by my dad about working on bikes. He taught me how to pump up my tires and how to fix a flat. Beyond that, I was on my own, and taught myself most of what I know about bike maintenance and repair — which still ain't much, but it made me unafraid to put a wrench or screwdriver to a bike. And I learned — after a couple of decades — that the ends of two of those cheap tools were tire levers, and I could finally stop puncturing my tubes with a screwdriver when I pried off my tires.
I was probably eight when when my dad taught me how to apply a tire patch. He smeared the adhesive all around the area of the puncture, lit a match, and touched it to the volatile goo. A big flame flashed up from the adhesive.
Working on bikes is great!
My dad said, "I don't know if that's really necessary, but it's fun."
What? I thought. Adults have fun!?
It was the first time I ever considered that adults were capable of the type of mischief that occupied 90 percent of my imagination, and as much of my time as I thought I could get away with.
My grandfather on my mother's side rode a bike until he was 92. He also walked two miles a day most of his adult life. I don't know this, but I bet he bike commuted a few times.
I don't know what motivated these fathers to ride bikes, and to use them throughout their lives.
It wasn't that they were training for a race.
It wasn't that they were concerned about their respective carbon footprints.
It wasn't that snazzy marketing from the cycling industry had convinced them that they should become "cyclists" and buy a bunch of special cycling clothes, and become insufferable windbags about how biketastic their lives are. They wouldn't have understood the term "cycling culture."
I try to fake this nonchalance about cycling, but I am always trying to figure out how to get around using our car. I go to ridiculous extremes. I show my hand. I am making a big deal about it.
It's hard to say what will be the impact of fathers (or stepfathers, as is my case) who make a big deal about it. Should we brace ourselves for a backlash from the kids we are trying to impress?
This video is of the antithesis of the cycling dads I knew growing up: Steve Donnigan, of Highlands Ranch, Colorado, powering up a single track trail pulling two kids behind him. One kid in a Weehoo iGo Bike Trailer-Cycle, and behind that a Burley Encore Bicycle Child Trailer. I know I'm impressed. I hope his kids are too.
And Josh Lipton, the publisher of Commute by Bike (my boss), is one of those cycling superdads too. (This is his first Father's Day, by the way.) Josh is actively designing a lifestyle around kids and bikes that he hopes he can model for his daughter Amelia.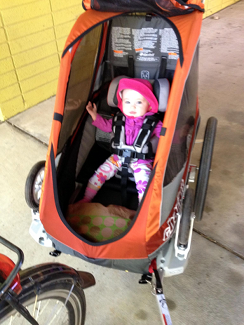 In part, he's hoping he can show the world how much you can do without a car, and still be a suburban dad. Then he wants to sell the necessary cycling accessories — design and manufacture them if necessary — to anyone and everyone who is inspired to try this lifestyle.
Again: Steve, Josh, me — we're trying to prove something. And I do believe it's something worth proving.
But today, Father's Day, I'm thinking about those dads who unselfconsciously instilled a love of bikes, without knowing they were proving a point.
Happy Father's Day.