Vanessa Marie Robinson is a NYC-based industrial designer who's blog For The Love Of Bikes covers her multifaceted interests in all things cycling. Having started commuting year-round by bike in Montreal, Canada 13 years ago, she currently enjoys here 22-mile, rain-or shine-commute along the Hudson River.
---
Whether you commute by bike or just ride a lot you end up having to haul a bunch of stuff, be it a change of clothes for work, groceries, or simply an extra jacket. For the most part I opt for the default: a backpack.
While there are lots of good options on the market these days for bags you can wear — the downside is comfort. The more you carry and the longer distance you go, the more strain it puts on your body. Any easy alternative to wearing a backpack or messenger bag is the pannier, which affixes to your bicycle and therefore allows you to no longer bear the weight on your body and distributes the weight on the bicycle.
I was excited to try out Banjo Brothers' bright red Saddlebag Panniers which offer two compartments that each expand to 14 x 4 x 14.5 inches (1500 cubic inch capacity) and can handle up to 30 pounds. The Saddlebag Pannier also comes in black and retails for $59.99.
I tested these panniers out on my Delta rear rack and found them easy to attach as well as remove. When you place the bag onto the rack there are two triangular clips on each side which hang over and hook over the dropout hooks on your rack. (In case your rack doesn't come with dropouts, the bags come with two extra hooks that you can attach yourself.)
The drawback that I found was that since the strap with the triangular clips runs through the panniers but is not permanently attached it can cause some awkwardness if you are not clipping in each side simultaneously.
But once clipped in, tightening the strap, and sliding an extra strap over the front of the rack to prevent the panniers from sliding back, the pannier was super secure. Riding around NYC I have yet to encounter any issues with them shifting.
As for capacity, I found these panniers to hold a great deal. The two sides/compartments make it nice and convenient to keep things organized.I've been keeping my change of clothes for work and a packed lunch separate which also keeps the weight evenly distributed. Alas, it is easy to get carried away and start cramming more stuff simply because you have the space!
Some additional features these panniers include is reflective piping on all sides for evening riding and the placement of two small exterior pockets which are easily accessible and the perfect size for keys on one side and cell phone on the other.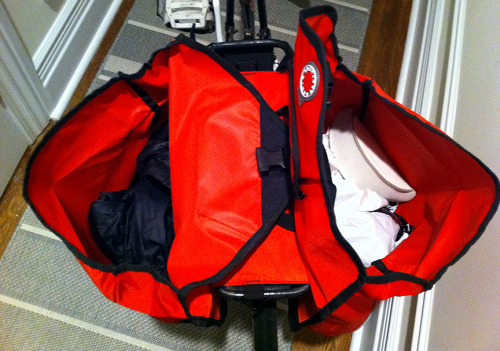 I wasn't sure I'd get a chance to see how these panniers held up in the rain since we're in the midst of drought warnings, but I did! After being caught in a steady light rain for about an hour the contents in the panniers were completely dry with the exception of a piece of paper that was at the very bottom next to the seam.
While the material held up remarkably well, Banjo Brothers does suggest on their Website that if you are looking for something that will stay dry in an "all-day ride in a downpour" you should consider their Waterproof Pannier instead.
A detail which I found a little frustrating was dealing with was the straps on the large compartments when I had few items in the panniers. Each time, after opening the buckle, I would find myself tying them up in order to prevent them from dangling and potentially get hooked on something while riding (loose straps is a pet peeve of mine). It also seems to me that since the main strap uses elastic bands to keep tension once you've secured the bags, they may eventually loose elasticity and may need to be replaced — though after having mine for a few weeks I see no indication or wear so far.
From my experience overall, these Banjo Brothers Saddlebag Panniers are an excellent option — particularity for the price! They are simple, sturdy and reliable for recreational cyclists and commuters alike!