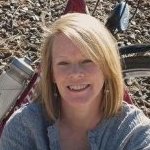 Karen Voyer-Caravona is an admitted bicycle dilettante in Flagstaff, Arizona, who blogs about her adventures on two wheels, vélo envy, her husband's cooking, and cross country skiing at www.sheridesabike.com. Visit her Website for her endless opinions on the most stylish shoes for pedaling, critiques of bike parking, and the best bike date dining destinations.
---
I never do this at the beginning of a product review but in this case, I'm going to have to; the Snoozer Sporty Pet Bicycle Basket, by pet product manufacturer Snoozer Pet Products, is an excellent product! In the first place, it allows me to enjoy two of my favorite, and completely unrelated things, at the same time: dogs and bicycles.
Some bike commuters are lucky enough to have a dog-friendly work situation. For larger dogs, you may need a bike dog trailer, such as the Burley Tail Wagon. And just as bike child trailers and cargo trailers aren't necessarily appropriate for carrying canines, it's best to have a handlebar basket that is designed for small dogs.
Readers of my blog, She Rides a Bike, might recall that last November I suddenly morphed into "the girl with the little dog in her bike basket" when my husband and I rescued a 5.75 lbs Chihuahua from a Hwy 51 entry ramp in Phoenix.
Because we couldn't leave the little dog, who we christened Daisy, unattended in our hotel room, I was forced to carry her around Tempe with me on my Dahon in an African bike basket while I followed my husband on the route of the Arizona Ironman.
I had long questioned the safety and judgment of riding around on a bike with a dog in one's bike basket, but when a scared little dog gazed up at me from the front of my handlebars and trusted me to keep her safe and secure all day long, and late into the night, I was in love.
Unfamiliar with Snoozer Pet Products prior to receiving the Sport Pet Bicycle Basket, I didn't expect much. I've occasionally reviewed products by companies not typically associated with cycling and they often felt a bit as if they were created for cyclists by non-cyclists. The Snoozer product, the other hand, appeared to be created by someone who understood my needs as a transportation cyclist and a dog lover: a bike basket that provides the rider with an easy-to-mount, roomy, sturdy and secure enclosure for transporting precious-dog cargo.
The Snoozer basket is designed to carry pets up to 14 pounds and is fabricated out of heavy nylon over a metal frame that can be carried as a basket off the bike or folded flat for convenient storage. The basket attaches to the handlebars with adjustable, equally strong nylon straps with buckles.
A metal support slides easily into a sleeve at the bottom of the basket and rests against the head tube (below the handlebar and above the fork), providing stability. Because the end of the support is coated in a rubberized material, the support fits securely against the tube without slipping, even over uneven or cracked pavement.
The basket opens up to 13.5   x 10   x 9.5 inches — enough for Daisy to lie down flat. The firm, flat, reinforced bottom allows her to shift positions comfortably without risk of falling out. The exterior of the product includes two zipped pockets, one containing a waterproof cover with an adjustable opening for the dog's head, and four angled sleeves for water bottles, leashes, pet treats or other necessities.
Within the basket harness a safety hook attaches to the back corners, adjustable so that the owner can find a fit that allows just enough slack for one's pet to stand, sit or lie down.
The Snoozer Website and written instructions contain some helpful tips on training a pet for riding in a bike basket.
The company does not specify whether the product is dog-specific but it's difficult for me to imagine carrying a cat in a bike basket, even one as stable as the Sporty Pet Bicycle Basket. I'll leave that to cat owners to experiment. As for my experience in training Daisy for transport in a bike basket, I'd definitely recommend following the wisdom (and Karen-tested) advice offered by Snoozer.
Human beings have to learn to ride a bike, and nervous little dogs need to time to get used to the experience of being in a small compartment that is moving in space. Riding in a bike basket was unfamiliar to Daisy and she didn't understand what was going to happen. I need to help her feel safe and comfortable.
I first began the test  by placing a snugly, soft, thick pad and a favorite little dog blanket in the bottom the basket, creating a warm, nest-like environment. After placing her in the basket, I attached the hook to Daisy's harness (not her collar), I walked my bike down the driveway and for an additional block to give her the chance to get used to the basket and the motion of the bike. I stopped a couple of times to help her sit down and once she was able to remain seated for several minutes I mounted the bike and started pedaling, occasionally giving her a gentle, reassuring rub on the neck. At first she faced me but eventually she turned around looked straight ahead.
That was really all there was to it. Chihuahuas tend to be high-activity, alert little creatures, and Daisy is no exception. Although she is nearly always in motion and ready to play, she remained totally calm and relaxed as I pedaled. While she took notice of her surroundings, including the passing walkers, children at play and other dogs, at no time did she appear interested in engaging with them or try to leave the basket. Even passing a colony of prairie dogs on our way home, Daisy merely sat and watched them scurry back to their dens, showing no inclination to pursue.
Her only agitation was evidenced during the part of our test when my husband, Bob, ran along beside us and took pictures. She desperately wanted him to hold her (as usual) but after checking the harness several times, I felt very confident that there was little danger of her being able to leave the basket.
If I had to make any recommendations for the Sporty Pet Bicycle Basket they would be:
Make the nylon attaching straps a little longer to allow more flexible adjustment, as I would have liked to have mounted the basket just a bit lower on my handlebars.
Redesign the waterproof cover to permanently attach to the rear wall of the basket so that it can be unrolled if need. I was not able to easily attach it to the basket once it was mounted on the handlebar; too often I felt that trying to attach the cover risked overturning my bike.
I have two other recommendations that have nothing to do with the basket design but instead with overall improved pet safety and bike stability. Snoozer strongly recommends against leaving your pet unattended in the basket. I'd go further to discourage taking your hands off your bike with a pet inside the basket for more than 15 seconds.
On two occasions early in my product test, the bike nearly overturned when parked with the kickstand down. I intend to get two-legged kickstands for both my bikes as soon as I can so that they stand straight up when parked. Next, I will investigate installing a wheel stabilizer between the downtube and the front fender to prevent the front wheel from turning to one side when parked and causing the bike to lose its balance. Both are good investments in your pet's safety and practical if you carry loads on either the front or rear of your bicycle.
The Snoozer Sporty Pet Bicycle Basket comes in dark red or orange, sells for $69.95, and can be purchased directly from the Website or at any number of retailers across the country. The Website actually features several bike specific pet carriers, including a similarly design quilted version in pink or grey and a rear pet carrier that transports pets up to 25 lbs. Additionally, they have front pouches and backpacks designed specifically for carrying small pets; both could easily be worn while riding a bike.