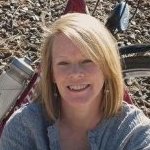 Karen Voyer-Caravona is an admitted bicycle dilettante in Flagstaff, Arizona, who blogs about her adventures on two wheels, vélo envy, her husband's cooking, and cross country skiing at www.sheridesabike.com. Visit her Website for her endless opinions on the most stylish shoes for pedaling, critiques of bike parking, and the best bike date dining destinations.
---
I've been testing the Laser Lite Lane LED for several months now and can honestly say I have no plans for ever removing it from my bike; it's that cool a product.
It's so cool that its reputation has actually proceeded itself. Two of my coworkers have been waiting on pins and needles for the rumored devise to hit the market and immediately asked me if they could borrow them when I  mentioned that I had two in my possession.
The Laser Lite Lane is an LED tail light that uses a laser to project a red illuminated bike lane on the street or road behind a bicycle. The projected laser lane and the bicycle logo in the center of the lane literally follow the cyclist as he or she travels down the road.
The light flashes four modes depending on operational/directional status: straight ahead, stop mode, and right/left turning mode. If the bike topples over the light will blink a straight, horizontal, center line.
The marketing material says that the light is resistant to dust, impact and rain.
The Laser Lite Lane's mounting system is simple to attached with an easy to turn but very secure screw.   No tools required.
Non-mechanically oriented people like me often hesitate before entering the section of bike shops containing bike components, tires and lighting systems.
I realize that I'm admitting extreme ignorance of the basics of bike maintenance but I actually got a little nervous when I saw "LED" in the product description because I worried that installation on my bike might require an engineering degree. I state this up-front  since I am pretty sure other people are equally as intimidated by "lighting systems."
When I see an acronym like LED my gut reaction is to write off the product as  beyond my abilities.
Not to worry! LED stands for light emitting diode, which sounds complicated but what is important to know about that  LED's  are more efficient that incandescent bulbs and rarely burn out.
The device doesn't require the installation of any cable or wires; I didn't even need an allen wrench. The Laser Lite Lane's mounting system easily screwed on to the seatpost of my Dahon Eco3, and the light slips in and out of the locking track.   All that is needed are two AA batteries.
One  tip about installation:  READ THE DIRECTIONS.
The instructions  tell you to calibrate the light before you use it. You also need to recalibrate every time you reattach it. We did not properly calibrate the light he first time we attached the mounting system so the light did not flash correctly. Proper calibration seems to require that the bike be completely upright so we used a carpenters level; but maybe it was just us.
As I mentioned in the earlier, my Laser Lite Lane will get a lot of use. We live in Flagstaff, Arizona, a Dark Skies designated community. Dark Skies communities strive to preserve and protect the night skies by minimizing the light pollution that robs us of starlight.
While we enjoy a breathtaking night time starscape in Flagstaff, it is also damn dark here, often pitch black.   Good bike lighting is of paramount importance for me. Although downtown Flagstaff is mostly well lit, the lighting in most of the commercial corridors is low.
As an occasional  car driver on the lookout for cyclists, I know how  hard it is to  see an evening cyclist. When I travel home on my bike after dark half of my trip  may be through a section of the urban trail system with little or no lighting.
From time to time, we just barely see other cyclists traveling the streets and urban trails without lighting.
We generally refer to them as stupid, because without a good headlight and rear lighting, you can't see or be seen.
So if I already have good lighting on all my bikes, what distinguishing the Laser Lite Lane from my other red blinky lights? For one thing, the illuminated red laser lane establishes a clearly identified space or boundary between the car and the bicyclist, aiding anyone following from behind, in a car or on a bike, to pass more safely at night. It also marks a safe following distance for other cyclists.
My favorite distinguishing feature of the light is the tilt activated directional lighting. By leaning the bike either right or left at the stop, the Laser Lite Lane flashes an arrow in the direction of the intended turn.
This is a helpful feature, particularly at right turns as it seems many drivers still don't recognize a right hand turn signal.   The above demonstration video shows how the signaling arrows illuminate.
I am not exaggerating when I say that if I did a lot of night riding I would not be without this product.
The only problem I encountered was that out of the five bicycles that my husband and I own, the Laser Lite Lane only fit on to my Dahon. I believe the problems are that 1) my Breezer and the Specialized both have suspension seat posts that interfere with the mounting system and 2) the seat posts of my bikes are positioned for an upright posture so that my saddle is not raised high enough over my rear wheels and rack to allow proper projection.
My husband would like to have this devise for his Kestrel triathlon bike but the oblong shape of his seatpost doesn't fit the mounting system.
Kent Peterson of Kent's Bike Blog noted the same issue so I hope that the designers will jump right on this for future versions of the product.
I'd like to suggest that a system that mounts to the end of rear bike rack would be ideal and eliminate a few quirks with the product.
For one thing, I noticed that when I had a bag attached pannier-style to my bike rack, the top of the bag blocked the laser projection on that side of my bike, thus only one side of the "lane" was marked or available for directional signaling.
Additionally, I was unable to attach anything of much more than two or three inches high to the top of my bike rack without at least partially blocking the light. Again, this is partly a result of where I position my seat post so that I have an upright seating position rather than hunched over the handlebars. People riding touring or road bikes might not experience this but many commuter cyclists are adopting the upright position because of comfort and better visibility.
Another issue that I had with the Laser Lite Lane had to do with the tilt activated directional lighting. It appeared that in order for the tilt activation to work consistently the rider must come to a full stop and deliberately tilt the bike in the direction of the turn in order for the flashing arrow to appear.     The below video by PedalSingapore demonstrates the feature very well.
When turning without stopping, the directional signal was much less consistent unless we made a pretty hard tilt. I'd like to get the flashing arrow regardless of whether I stop or not. I have no idea how to solve this problem of course but wondered if a wireless system could possibly be developed for the handlebars. Still, in posing that question I worry that with 100 percent directional signaling cyclists would over-rely on it to the point of giving up using hand signals.
Overall, I rate the Laser Lite Lane very high in terms of its unique contribution to bike safety. After having it, I can't imagine not having one if I did extensive after dark riding. The product will retail for about $100
---
A version of this review was originally published on She Rides a Bike.