This is a guest post from Pete Prebus. Pete runs Electric  Bike  Report and is enthusiastic about spreading the word about electric bikes because they have great potential to get more people on bikes and out of their cars.
---
Are you looking for a saddle bag to store some extra gear (tools, small cargo, etc.) on your commuter bike?  Would you like it to be durable and easy to install and remove?  Well the Vaude Tool Saddle Bag  might be the one for you.


Since bike commuting is a relatively low-impact sport I decided to put the Vaude Tool Saddle Bag on my mountain bike to really put it through its paces.  Oh, and by the way, this is mountain biking in Sedona Arizona, one of the rockier and rougher places to ride a mountain bike.
These are my thoughts on the Vaude Tool  after some time on the trail.
Pros
I have used saddle bags in the past that have a tendency to rattle around because their attachment was not very stable. One of the cool things about this Vaude pack is how securely it is mounted to the seat rails.  I didn't notice much movement at all.
The plastic attachment system makes it very easy to attach  as wells as to take off the bike.   Once you have the plastic attachment system mounted to your seat rails you just "twist" the pack on and secure the front Velcroâ"¢ strap around the seatpost.  If  you need to take the bag with you while you run errands it will be relatively easy.
This bag appears to be pretty durable. With the kind of riding I have done on rough trails I am impressed that it didn't come apart or fall off the bike.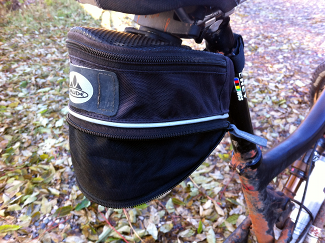 Speaking of fully-loaded, this pack can expand to carry more if you need it.  Simply unzip the lower zipper and the bottom drops down to create more space.  This is handy when you pick up something extra on an errand  or you need to take more stuff to work.
Cons
Even though the pack held up well during my testing, I would like to see slightly stronger zippers.  Zippers tend to wear out over time and it is a pain when they do because getting them replaced is not easy.
Random Thoughts
This is a general comment for all saddle bags, not this Vaude bag  in particular.  It would be nice if there was an easy way to lock the bag and it's contents to  the bike.  For some this may not be an issue but taking the bag off to run into the store is kind of a pain if you are worried about theft in your area.
If you have a cool solution for this please leave your thoughts in the comment section below.
Also, please leave any comments or questions you have about the Vaude Tool Saddle Bag. If you own this bag please let us know what you think of it.
Thanks!