Josh King lives in Seattle, where he commutes by bike every day, rain or shine. He switched to full-time single speed commuting in 2010. You can read his thoughts on going gearless at www.singlespeedseattle.com

---
As I've said before, my fixed-gear bike is no fashion statement. It's my daily ride to work, and, increasingly, my go-to for running errands around town. In addition to having committed the ultimate fixie hipster faux pas (brakes "" on  both  wheels!), I've geeked my ride out with a rear rack and panniers.
The panniers are the excellent Ortlieb classic backrollers, which are pretty much mandatory if you're commuting year-round in Seattle.
But I wanted to try a smaller waterproof handlebar bag as an option for errands where I didn't need to be carrying around a full pannier or two.
Enter the Ortlieb Ultimate 5 Compact  Classic handlebar bag (retail price $55).
Like all of Ortlieb's products, the quality is first-rate. I'm not going to worry about water getting into this thing. Plus, it's shiny and has an easily-removable shoulder strap for the off-bike portion of the errand.
Another plus is the mounting bracket. It looks a bit ungainly, but it is easy to use and includes a lock should you want to leave the (empty) bag on the bike unattended for a spell.
That said, there are a couple of knocks on the Ortlieb Ultimate 5 as a solution for commuting and errands. The biggest issue is the position of the bag on the handlebars, which blocks out all of the prime spots for mounting a front light. And the time of year I really need a waterproof bag is… the time of year I really need lights.
I resorted to attaching a clip light to the front.
Those needing light (as opposed to visibility) will have to find a different solution.
The stout construction of the bag also forecloses any packing "" you're limited to the stated capacity of 165 cubic inches. And given the size, it's not going to hold more than lunch or a few small errand-objects.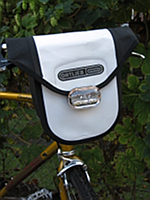 I've been riding with it for a month, and frankly haven't found much use for this bag. It's just kind of in-between sizes.
Ultimately, the Ortlieb Classic 5 is a quality bag that would work for a commuter who wants a glovebox for wallet, keys and other small items as a supplement to panniers or a backpack. And it could be handy for small errands. However, it's probably most suited for touring use rather than around town.