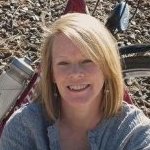 Karen Voyer-Caravona is an admitted bicycle dilettante in Flagstaff, Arizona, who blogs about her adventures on two wheels, vlo envy, her husband's cooking, and cross country skiing at www.sheridesabike.com. Visit her Website for her endless opinions on the most stylish shoes for pedaling, critiques of bike parking, and the best bike date dining destinations.
---
My husband and I enjoy a double car garage at our house, the perfect size for storing one Honda Element and five bicycles. I sleep better at night knowing that our bikes are all safety tucked into bed in a nice, clean garage, safe from the elements and temperatures extremes.
Many bikes arent so lucky though, and have to spend a lot of their time out of doors, locked to a bike corral or sign post without any protection from inclement weather conditions. Even if they do have shelter during the evening, they might have to endure direct exposure to rain, ice and snow if their owner doesnt have access to covered bike parking while at work or school.
I dont mean to suggest that I anthropomorphize bicycles, but the protective nature I experience toward my bikes rivals that of the Corvette Club members.
When I lock up my bike to a corral or sign post, I position it such that no damage will come to the paint job. I will spend hours looking for just the right shade of nail polish to repair any scratch to my fork resulting from some dunce rudely throwing his (and lets face it, it is usually a his) bike against mine outside Safeway. I always carry Target shopping bags in my pannier, as my usual remedy for a soggy, rain-soaked saddle. Rarely, do I remove my bike from the garage before going to work that I do not first lovingly wipe it down with a cotton rag to remove any dust or filth that might have accumulated from the day before.
Now be honest. Dont some of you do the same? Just a little bit? If not, then why, pray, are you even reading this review on bike covers!?
Okay then…
So when offered to review a bike cover, I said Absolutely. I have to leave my Breezer outside in an unsheltered location when I take it in to work. And given that this is monsoon season, it would be nice to see how a bike cover would do for keeping my saddle nice and dry.
Sure, Target bags have a certain art-school edginess but nothing says urban bike commuter like a full-on bike cover.
Now, when I came into possession of the bike cover the instructions that came with it indicated that the cover was made by Budge Industries, the original car cover company. Budge Industries is primarily in the business of making car covers, but they also manufacture covers for motorcycle, ATV, snowmobile, boats and patio furniture. The label on the cover said Budge and the instructions were actually for a car cover.
I didnt see anything on the Budge Industries Website about bike covers so I followed up with the representative who sent the cover. He sent back a link to Empire Covers, where I found a page dedicated to bike covers.
The cover is made of a water repellent material created by DuPont Corporation, and comes with a 10 year limited warranty (according to the car cover directions). The front of the cover is marked front and slips over the front of the bike. It is secured with elastic sew into the bottom of the cover.
Two sets of adhesive-backed grommets can be attached to the bottom of the cover on opposite sides that can be further secured with a cord, thin bungee or ziptie. I chose to attach the grommets at the bottom of the cover where the bike pedals are located.
The written materials stress that while that material is water repellent, it is not water resistant. Regardless, when I tested the cover for water resistance. I used it to cover my bike on a day when monsoon rains were predicted.
As forecast, it rained quite heavily for about an hour while my bike was locked up outside my office. And when I later removed the cover, my bike and the saddle were completely dry. A good thing, too, since I was then on my way to enjoy a few drinks with one of my friends downtown and had no desire to arrive with a wet bottom.
For protection from the elements, including dust and dirt, Id say the cover does the job. In fact, my husband plans to take the cover to his upcoming triathlons to protect his Kestrel from rain and humidity when its stored overnight in the staging area.
In most of my reviews I usually include suggestions about how products could be improved upon. I think that many bike products and accessories are often designed with one or a limited number of bikes or customers in mind. However, bikes of all geometries have to be stored outside, and those bikes are owned and loved by many types of customers.
In the case of the Empire cover, I placed it over four different bikes that I have in our garage. The most difficult bike to cover was the one that I ride the most often, my Breezer Uptown 8, which has a fabric saddle. The easiest bike to cover was my husbands Kestrel, a triathlon bike.
I suspect that the Empire cover was designed for a bike with drop handlebars because it effortlessly slipped over the Kestrel, which has cowhorn/aero bars, and covered the entire bike. On the other hand, the cover got caught on to the porteur or upright style bars handlebars of our Breezers. They also caught on the straight, flat handle bars on my Dahon Eco3. I was unable to get a proper fit on the Breezer or the Dahon so the bikes were not completely covered and the cover was difficult to place, period.
Naturally, I neither ride nor own a recumbent bike, but I think its fairly safe to say that this cover would not accommodate such a bike.
Nonetheless, the saddles were all covered and for me this is really the most important factor. I hope Empire will consider cutting later versions of the cover for a more universal fit.
Placement might also be made smoother if instead of having to worry about securing grommets the elastic at the bottom of the cover could just be replaced with a draw cord. The elastic made placement clumsy so that if it caught on anything on my bike would fall down, sometimes on me. Furthermore, I think a draw cord, fully opened, would be a great way to keep a touring bike, loaded down with travel gear, completely covered while its owner rides out a thunderstorm in a coffee shop
The Empire Covers Website indicates that they sell three different bicycles covers. The waterproof cover retails for $35.99; the sunproof is $31.49; and the standard model is $22.49. The representative was unable to tell me which cover they actually sent but it could have been the waterproof cover, which comes with a three-year warranty. If you are interested in purchasing an Empire bike cover, you can order them directly from their Website at www.empirecovers.com.