I managed to forge a cycling purpose into a non-cycling vacation in August, 2011, using the brute force of a big-ass 1996 GMC camper van.
Here are the posts: Vapid  Transit, Snap  Judgements, How  to  Blow  $20  in  Boulder, Public  Art  You  Can't  See  from  a  Car, and How  does  your  town  say  "˜No Bicycles?'
---
This is not a biking vacation. My wife and I are driving a big-ass 1996 GMC van borrowed from my father in law–completely erasing all my built-up carbon and smug credits for the last year. I'll do what I can to make my posts bike-ish.
Shall we begin?
Leaving town Friday afternoon, I saw the most ineffective unveiling of a protest banner. These protesters are on a train bridge, which I suppose takes some guts. But 90 percent of the traffic approaching this banner has just turned a corner. If the drivers look up at all, they have about half a second to think, Huh? That's a really big coloring book!

I was at stop sign on a side street right next to Flagstaff's friendly neighborhood forced-labor wedding boutique. I had couple of seconds to snap this photo so I could figure it out later.
So what are they protesting?
This is a cycling blog. Pay no mind.
But, protesters, if you're reading this, next time, for your banner, don't reuse the backdrop from a third-grade Christmas play.
But thanks for reminding me that I didn't pack the Edward Abbey novel I'm reading.
Damn!
We drove.
Mancos
The next morning, we were looking for a place to have breakfast in Mancos, Colo. We heard rumors of a fantastic bakery. Driving into Mancos, I saw a police car ahead blocking traffic into town. Beyond the cruiser was a tanker truck blocking the road at an angle. My immediate thought was that toxic volatile gas was spilling out, and the town had been barricaded. But we might suffocate or immolate any minute anyway. Actually, it was the police blocking the street for the Mancos Days parade, which they hold every year to make the bakery difficult for tourists to find.
We turned the van around, and passed The Enchanted Mesa Motel. It brought back a memory from years ago. I told this story to my wife.
I was cycling through Georgia, on my way to Charleston, South Carolina, and camping most of the way. I stopped at a very similar looking motel in a small town I don't recall. I didn't have much money, but I was exhausted and thought maybe I'd treat myself to a motel bed if the price was right.

A young woman at the counter told me the price (which would probably seem dirt cheap to me today). I asked her if there was another hotel that might be less expensive.

"Yes," she admitted, "There's one further up the road." But not wanting to lose a customer, she added, "But that's where n*****s stay."

What shocked me was how casually she used the n-word. It was as if she were informing that the hotel were right next to a railroad crossing that clanged loudly all night long. There was no anger or hostility in her voice. Just a word to the wise, she thought. Not a big deal.
I'll come back to that in a minute.
We gave up our hunt for the famous bakery, and ended up at groovy grocery and cafe called Zuma Natural Foods–where the word "gluten" was displayed more places than the word "donut" is displayed at Dunkin' Donuts.   Except Zuma's message is, Don't expect to find any of that crap here.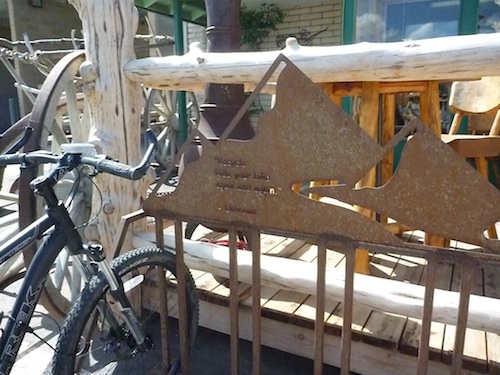 I fired up my laptop at Zuma's and found these new comments from Commute by Bike readers, as if they'd been riding in the van with us:
We need fixie riders who are vegetarians, locavores, and eating gluten free. Just covering all the fad bases.
And…
Almost everyone now agrees that the "N" word is unacceptable. But think of the years that people used it regularly. The demeaning effect it has is so clear now.

Pet names for women fall into a similar category "" demeaning with or without intending to be. Intent doesn't matter at some point. We've passed that point in our society.

—Paul
(Maybe they are in the van with us. There's plenty of room to hide in this yacht.)
Half an hour after leaving Mancos, we stopped in Durango, Colo. for a couple of hours. Durango reminds me of Flagstaff on tourism steroids. Durango was not our destination, but we had time to spare.
There walking down Durango's Main Street toward me was Nathan Friedman, who writes the bike blog Handlebar Sandwich, and wrote a review for this blog on Orontas Plant-Based Lube and Cleaner.
I'd just seen Nathan a day or two before in Flagstaff, and handed him some bike lights to review.
Nathan will be mountain biking on the Colorado Divide over the next several days.
I stepped into Mountain Bike Specialists because there must be some bike thing I needed to buy.
Sadly, nothing came to me.
Durango is a mountain biking town, but there alone in the sea of high end mountain bikes was a Globe commuter bike.
Mike Phillips of Mountain Bike Specialists said that he had a hard time selling commuter bikes in a town like Durango. Anyone with the inclination to bike commute, he said, "already has an '80's steel framed hard-tail in their garage."
The Carver Brewing Co. in Durango has a big bike rack in front and a sign that reads "Free Parking For Bicycles."
Another bit of Durango bike-friendliness is the "Dismount Zone" signs embedded in the sidewalks on street corners. I've never seen these before, and it struck me as such a positive way of saying that the town has nothing against bikes (and skateboards), just don't ride on the sidewalks.
Isn't this…
…nicer than this?
It conveys the same message, while conveying a completely different message.