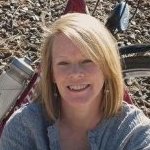 Karen Voyer-Caravona is an admitted bicycle dilettante in Flagstaff, Arizona, who blogs about her adventures on two wheels, vélo envy, her husband's cooking, and cross country skiing at www.sheridesabike.com. Visit her website for her endless opinions on the most stylish shoes for pedaling, critiques of bike parking, and the best bike date dining destinations.
---
The Lane Website boldly tells the viewer to "invest in the best bike bag you have ever owned today."
Looking at the dozen or so images Lane presents, it not hard to imagine being sold on that claim immediately. The physical product certainly impresses at first blush, as well.
The bag might indeed be worth the investment of $295 — currently on sale from $395 — for a very specific type of bike commuter but I'm not sure it quite the best bag for most professionals who bike to work.
Masculine, sophisticated and minimalist in design, the Lane Leather Bicycle Pannier Messenger Bag measures 14 x 4 x 10.5 inches. It is made of full-grain leather, with a sturdy canvas, adjustable strap.
The designers seem to have taken pains to avoid any unnecessary flourishes or detailing in that the buckles that hold the bag closed are well-hidden underneath the front flap. The pannier hooks and buckles are likewise enclosed in a zippered compartment on the other side of the bag. The interior of the dark brown bag features a large zip pocket and pockets for cell phone, pens and business or other cards.
This is a stiff, structured bag that, like a briefcase, stands at attention. Unlike many messenger bags, the Lane bag wouldn't dare slouch or collapse when empty or set down.
I am not familiar with Lane, so perhaps they are marketing this product to a very distinct target audience. Despite the fact that I find this bag very appealing on many levels I don't think I'd be a member of that group.
My husband put his finger on the buyer for this bag straightaway:
He (or she) is successful professional (or on the way there) who is organized, decisive, has all the numbers worked through to the last decimal and confident enough to arrive at any meeting on a bicycle, very possible a vintage Italian model that he refurbished himself (or herself). The heavy hitter at the meeting arrived by helicopter or was chauffeured in a Hummer. But our guy needs no such pretensions. This person doesn't need to practice his lines in front of the bathroom mirror before his 10 AM because he directs the outcome with Yoda-like powers of persuasion, which he uses only for good and never evil. The only things he carries in his bag are an iPad and a four by six inch moleskin that, when bored, he uses for quick renderings of suspension bridges. He subsists entirely on espresso and pure Zen.
Most of us will never attain such effortlessness, and even with significant tutoring. Perhaps only a less tortured version of Mad Men's Don Draper or the now 40-something Keanu Reeves could come close to pulling it off. But…
Everyone I showed this bag to, loved it. Almost always the response was "I've been looking for a bag like that my whole life!," or something to that effect.
I work with pretty much all men and the Lane bag seems to symbolize something for them. I do not know what—or who? Perhaps their inner Thomas Crown, as played by the late Steve McQueen. In any case, upon closer inspection everyone pointed out a few design issues, suggesting that when investing $200 or $300 in a bike bag, form will never trump function. These are all design issues that could be easily tackled in future versions of this bag.
The first thing commented upon, was that the bag is too awkward and difficult to easily buckle open or shut. Buckling the bag closed required a fair amount of hunting and fumbling. I could not carry on a conversation and close the bag at the same time because I had to look under the flap to see where the buckles went. So much for looking cool and confident. I suspect a larger, single buckle would solve this problem. I've found that magnets to an outstanding job of keeping bags closed, as well.
A question that often came up was whether or not the bag would be secure on the bike rack when used as a pannier. The leather buckles would certainly prevent a thief from grabbing the bag and making a run for it but I found them time consuming to attach. I wouldn't use them if I was in a hurry.
The leather covered hooks fit very snugly over my bike rack but occasionally the inner hook would bounce off the rack if I pedaled over a deep fissure in the road or hit a bump. Usually, the bag came unattached when I was using my little folding bike and I hit the bottom of the bag with the heel of my foot. I really think that longer hooks would be a simple remedy.
Another frequent concern was the large inner pocket is so tight that one can only just slip a hand into it. I'm not really sure what I'd use it for. Maybe a laptop as thin as a credit card? The pocket didn't seem to serve any function other than to say, "Yes, it has a zippered pocket."
My husband remarked that he wished the bag had some padding on the shoulder strap due to the potential discomfort of the strap cutting into one's shoulder. I carried the bag many times as a messenger though and didn't have this problem. Instead, I'd suggest that the shoulder strap be detachable for those times I want to use it as a pannier.
Finally, I'd also like to see a neatly crafted handle sewn into the seam between the flap and the compartment for the pannier hooks and buckles because it would allow for a more elegant removal of the bag from the bike rack and I could carry the bag as I would a briefcase.
As I was sitting down to write this review, I found myself pulling various items out of my Timbuk2 Shift Messenger Pannier (which I reviewed for Commute by Bike several months ago). It occurred to me that if the Lane Leather Pannier Messenger were to marry the Timbuk2 Shift Pannier Messenger, their child would be, without a doubt, the best bike bag I had ever invested in! Why? Because both bags are just so super cool, but in very different ways.
I like the minimalist, stand-at-attention design of the Lane bag but it really is so stiff. It doesn't have a bit of give. If I lost my keys in the Lane bag I'd couldn't root around in the bottom of it. I'd need to remove all the contents because the interior is dark and tight.
The Timbuk2 Shift bag is more structured and stable than either the Classic Timbuk2 or Patagonia messengers we have, but it is a couple of inches wider so I can throw a couple of Rubbermaid containers with my lunch inside. The interior is also bright blue so I can easily see things that I'm searching for.
The Lane bag is leather! So professional and pulled-together looking, but it can be a bit awkward to use and it doesn't have a briefcase handle. The Timbuk2 bag is incredibly simple to open, shut and put on the bike rack, and it does have a handle–but it still looks like a messenger bag. That might be fine for school or many work environments, but a lot of people have to maintain a more traditional professional image. Even a poor law student seeking a clerkship would likely prefer showing up for an interview with a bike bag that doesn't look like a bike bag.
Lane implies rightly on their Website that the bag is designed with the boardroom in mind, and on that note it definitely succeeds. Unfortunately, what it offers in style is undermined by sacrifices in utility. Anyone who commutes by bike has to prioritize efficiency, function and flexibility. The Lane bag could use a bit more of all three. It's a handsome, exceptionally well-made bike bag though made for an exceedingly low-maintenance person who travels light. I hope the designers at Lane will consider creating a bag for the rest of us.