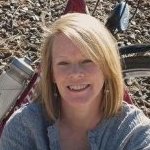 Karen Voyer-Caravona is an admitted bicycle dilettante in Flagstaff, Arizona, who blogs about her adventures on two wheels, vélo envy, her husband's cooking, and cross country skiing at www.sheridesabike.com. Visit her Website for her endless opinions on the most stylish shoes for pedaling, critiques of bike parking, and the best bike date dining destinations.
---
In my four years of bike commuting I've tried just about every type of carrying system you can think of (save a bike trailer but I'm working on that). So when got my first look at the HybridBackpack, I didn't even have to know what it was!
After inspection of the product Website though, I discovered that the HybridBackpack really isn't a backpack at all but bike-rack-pack. It doesn't fit on your back, but on your bike rack.
Constructed of heavy-duty treated canvas, the HybridBackpack is flat and opens up on the underside with two flaps to fit atop the rear bike rack, and is secured with nylon straps and what the maker refers to as a "unique Velcro locking system" to the bottom tubes on either side of the back wheel.
A separate set of nylon straps with buckles secures items to be carried on top of the bike rack.
A flap on the tail end of the HybridBackpack is designed with reflective tape sewn into the fabric as a safety feature for night time beer runs.
What I think makes the HydridBackpack an interesting product is that it is uniquely useful for carrying larger, single, odd-shaped items that are too big for a traditional, boxy pannier. The oscillating fan shown in the marketing materials was an odd but perfect example. Other examples could be quickly found in my garage.
I kid you not, but I recently had to cancel my plan to bike to a pot luck supper because the cake caddy for the cake I baked (mocha apple space with a chocolate glaze) wouldn't fit in our pannier and I didn't trust my bungee cords not to pop off, as they often do when I pedal over the many deep cracks in the road.
And a big can of Lincoln Logs, purchased downtown on my lunch hour, also didn't fit in my pannier and was too ungainly to carry in the bag on my handlebars, but the HybridBackpack managed it quite well.
But, the real question is can it carry an extra-large pizza?
Despite the fact that my husband Bob and I are well past our college years, pizza remains an important feature in our lives. But often our desires for carry-out pizza after a long day of working for the man are thwarted by the limitations of our bicycles.
So in order to properly test this product, I made a bike date with Bob for an extra-large pizza on Friday night.
Our destination: Oregano's Pizza Bristo.
Our goal: To get this pizza back to our front porch for our evening meal.
Because we ordered an extra-large pie, I had to use the second set of straps for additional length. (I understand the Website to read that the extra straps must be ordered separately.)
Unable to entrust me with the care and safety of a pizza, my husband "corrects" my work and is then satisfied. He is too excited about the pizza to carefully roll the end of the straps around the nylon beneath the buckle and secure the Velcro, as demonstrated on one of the many instructional videos on the product Website. They do fold up neatly if you have the time, but I'm afraid the aroma of Italian seasoning made careful rolling impossible.
We set off out of the parking lot.
So far, so good.
Bob followed me to ensure no harm came to the pizza, such as it being blown out from under the straps by the unusually strong winds that evening. He noticed that often my red tail light was obscured by the HybridBackpack, which could be a problem for after-dark trips but not an insurmountable obstacle.
We pedaled about three-and-a-half miles to our house. And while I could occasionally hear rattling over my rear wheel, I didn't feel anything move or any signs of instability. Bob checked the straps for any loosening at stops lights and found no problems either. I admit to being a bit surprised.
Bob noticed that along the way several pedestrians and drivers gawked at the pizza on the back of the bike, no doubt surprised that one really can carry an extra-large pizza on a bike.
Finally, we arrive at our front porch. Time to examine the contents of the pizza box.
We find the pizza somewhat disheveled but in acceptable condition and delicious after a quick zap in the microwave.
The Verdict?
I don't see the HybridBackpack filling a big hole in utility cycling. I see it as an adjunct to the carriers that I currently use, rather than a replacement.
A small bike trailer would probably be a better and safer option for transporting a pet (as demonstrated on the product Website). But the HybridBackpack, which retails for $35.99, is an "all purpose carrier" and almost anything you could carry in a bike bag or pannier you could also carry with this product.
I recommend that the makers consider refining their marketing to focus on the qualities of the product that make it truly unique. The carrier is especially useful for transporting single, large, odd-shaped items that won't fit into traditional pannier. My pizza experiment proved that that HybridBackpack provides a remarkable amount of stability so I'm certain I'll use it again to transport pizza, and covered trays of food to potluck lunches at work or cookouts with friends.
I'd like to make a few of design suggestions. Because my red tail light was often obscured by the over-hanging end of the product, I recommend that the maker redesign future models to include a loop where a blinky light can be easily clipped for night time pedaling.
The other design issue I'd like to see addressed is a way to design the unit so that the side flaps that drape over either side of the bike rack do not prevent additional panniers from also being utilized. Had I wanted to stop for a couple of 2-liter bottles of soda, I think a pannier would have been the preferable means for carrying them.
The unit is designed so that a cable lock can secure it to the bike.
Finally, I found the method of having to wrap the excess straps up a little time consuming. I'm not sure how to address that for dealing with the straps when packing an item on my bike, but I'm often in a rush. At least when I've unpacked, it would be nice to be able to tuck the straps in a little pocket or sleeve built into the top of the unit, rather than leaving them hanging where the straps could get caught on other bikes parked when parked closely together.