I've spent about a year and a half with a SRAM Power Link chain on my mountain bike. I'm in the middle of my second winter of daily bike commuting with it. In harsh commuting conditions, frequent cleaning of the drivetrain is a must. Solution: The SRAM Power Link quick release chain.
When you've got salty road slop all over your chain, you can't give it a thorough cleaning without removing it, even with a chain scrubbing machine.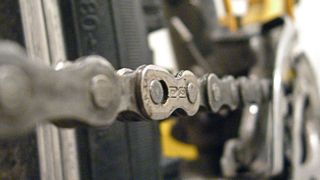 The Power Link is a quick-release master link that is formed by two halves, and it comes standard on most SRAM chains. This link can be removed very quickly without any tools, and on 7/8- and 9-speed chains, re-used. Due to the very thin construction of narrow 10-speed chains, SRAM recommends that the master link on 10-speed chains be replaced with a new one each time you remove the chain.
At first, I was somewhat skeptical that a quick-release master link would hold up to the brutal conditions and abuse that I put my bikes through, but it's been a year and a half with hundreds of messy miles logged on each and they're still going strong. I occasionally hit the singletrack as well, and the chains have handled my heavy body mashing the pedals without a single complaint. I'd say the Power Link is just as strong, if not more so than traditional master link pin systems.
Getting the Power Link released can be a bit tricky for the un-initiated. When I first tried taking the Power Link apart after one of my first winter rides, I couldn't figure it out until I ran across these instructions. Although those instructions suggest using pliers, I've been able to remove it by hand easily enough. For those visual learners out there, these images show the link before and after the plates slide across each other.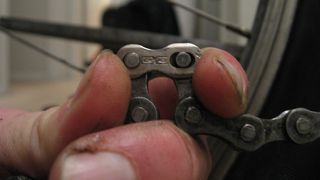 Once the plates slide to the open position, the master link will split into two pieces. Pull both pieces of the master link from the chain and set them aside before removing the chain for cleaning. The first time removing it is the most difficult, and as noted by Jobst Brandt, excessive grime build-up can make it more difficult, so be patient. Rest easy knowing that re-assembly is quite literally a snap. Pass each half of the link through the loose ends of the chain, line the pins up with the notches and pull the chain to lock the master link together again.
The chain is available from most bicycle shops for about the same price as most other chains, including the popular Shimano HG series. You can also find the Power Link master link for sale all by itself many places for under $5 without buying a whole new Power Link chain. I keep one spare handy in my seat wedge pack in case I encounter a broken chain, whether it's my own, or a fellow cyclist's.
These chains are popular at my LBS, so I'm sure quite a few readers have tried them. What are some other reactions to it?