When is a track bike, not a track bike?
Let's begin with the definition of a track bike according to Wikipedia:
A track bicycle is a type of fixed-gear bicycle specially designed for track cycling in a velodrome. Unlike road bicycles, used for road cycling, they lack multiple gears and brakes, having a single fixed gear ratio and no freewheeling mechanism. Tires are narrow, and as the track surface is very smooth there is no need for shock absorption, tires can be inflated to very high pressures well beyond those used in road cycling to minimise the rolling resistance caused by friction. Very lightweight tubular tyres can be used as there is almost no risk of punctures. (For grass-track events, the tires would have 'knobs' intended to minimise the potential for skidding.)
Now that we all know what a track bike is, a Little 500 track bike is the answer to the question.
But wait, what is 'Little 500'? The Little 500 is an annual race held on the campus of the Indiana University, if you've ever watched the movie 'Breaking Away' , you are probably familiar with this race.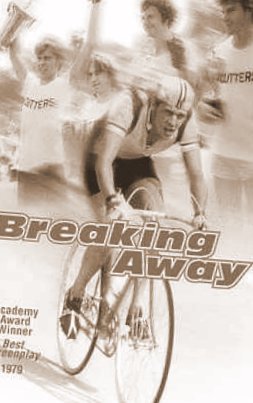 OK, back to the bike… The biggest difference between a little 500 bike and a track bike is that the little 500 bike has a freewheel with a coaster brake. Yep, a coaster brake. The race is very strict on the specs of the bike, check them out:
1. RIMS: Both front and rear wheels may be steel or aluminum. 36-hole spoke and must both be 700c. No aero rims with a greater profile than one inch (26 mm) are allowed.

2. SPOKES: Must be round and of steel, no alloy nipples are permitted. Radial spokes are not permitted. Two, three or four cross patterns are acceptable. Spoke gauge must be 14. Double butted are permitted.

3. TIRES: Any 700 x 28-32c clincher tires may be used. Cyclocross tires and those tires determined to be variations of, are not allowed.

4. FRAME AND FORK: Only current issued and approved frames and forks are allowed. The frame and fork cannot be tampered with or altered in any way.

5. STEM AND BARS: Bars must be of standard dropped shape and taped and plugged. They may be any steel or alloy bar and stem.

6. HEADSET: May be of any steel or alloy.

7. CRANK: Must be solid steel or alloy, one-piece crank with a factory specified length between 165mm-175mm.

8. PEDALS: Stock issued or rubber pedals can be of any width. No steel rat traps, toe clips, or any other foot clinching device on the pedal or the rider's shoe is allowed. Furthermore, shoes must have their natural sole. Any alteration must be approved.

9. CHAIN: No master link, it must be replaced with normal link. There must be at least 1/4″ clearance from the front edge of the rear axle bolt to the end of the dropout. Chain must be 1/8″ width.

10. CHAIN RING: Any steel or current Schwinn stock issued (46) chain ring is allowed.

11. REAR COG: Any steel (18) cog is allowed for the men's race. Any steel (18) cog is allowed for the women's race. Teeth may not be ground down.

12. SEAT POST: Any steel or alloy post is allowed and must be inserted to
minimum insertion marked on post or 3″ (whichever is longer). Seat post
diameter is 27.2.

13. SEAT CLAMP: No quick release seat adjusters will be allowed.

14. SEAT: Seat is up to your own preference. A steel railed seat is suggested for safety.

15. BOTTOM BRACKET: Must be one piece type bottom bracket. "Sealed
mechanisms" are allowed while "sealed" bottom brackets are not. No loose
bearings are allowed.

16. HUBS: Rear hub must be a single speed coaster brake type. Both hubs must be bolt-on type. No quick releases allowed. Precision sealed bearing mechanisms prohibited.
Although you can't buy the bikes from a shop, I've seen them for sale in Ebay or in CraigsList.
The 2007 Little 500 will be held on April 20th and 21st.