Overview
The Choss is the newest mountain bike specific wedge frame bag in our fleet. Made with 100% recycled content fabrics, our famous beefy zipper and stretch panel combo, and silicone coated hook and loop attachments, the Choss is ready to be put through the wringer.
The main compartment houses a mesh pocket and is hydration system compatible.  Stash smaller items you want handy in the flat left side pocket that also features a wire port. The Choss comes in two sizes that fit most hardtail frames and some full suspension bikes.
NOTE: You can purchase the Choss either with or without a custom hydration system. Revelate's hydration system includes a custom Revelate X Hydrapak 1.5 liter water reservoir, Plug n' Play hose for easy refilling, and Barnacle handlebar clips.
Features
Two sizes fits most hardtail frames and some full suspension bikes
Beefy zippers with stretch panels
Hydration system compatible
Flat left side pocket with wire port
Internal mesh pocket
Silicone coated hook and loop attachments
Built with 100% recycled content fabrics
Specs
Weight:
Small Weight: 6.7 oz / 190g
Large Weight: 7.8 oz / 222g
Volume:
Small Volume: 2.7 Liters/165 Cu in
Large Volume: 3.4 Liters/205 Cu in
Fit: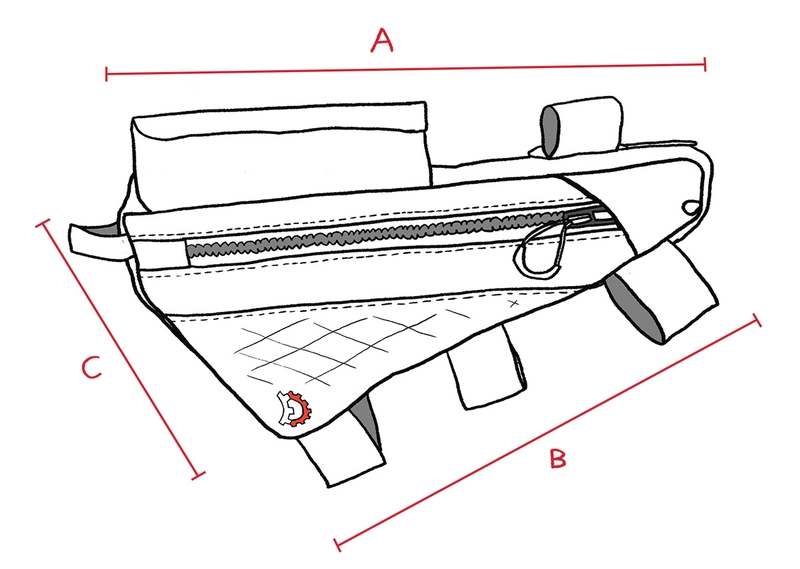 Dimensions (in.)
SM
LG
A
14″
16″
B
12″
13.5″
C
7.5″
8.5″
Dimensions (mm.)
SM
LG
A
355
406
B
305
343
C
190
216
Warranty
All Revelate Designs Bags are backed by warranty against defects in material and manufacturing.
Revelate Designs warranty policy (we apply these same standards):
Revelate bags are made from high quality materials and will stand up to the use for which they are designed. In standing by this guarantee, Revelate Designs provides a warranty to the original owner on all products purchased through authorized sources against defects in materials and workmanship. If any issue arises regarding materials or workmanship please contact us (Revelate Designs) via email for evaluation and return instructions. If an item is found to be under warranty we(Revelate Designs) will repair or replace at our discretion, free of charge. We (Revelate Designs) require a dated proof of purchase.
What the Revelate Designs warranty doesn't cover: damages involving zipper wear, general wear and tear, improper use & improper mounting (seat bag damage due to tire hits or tire-rub holes, handlebar damage), alterations made by owner, damages due to accident or caused by uses other than intended. Bikepacking gear is intended for off road use and ultimate adventures. Constant use or heavy intermittent use will cause your bags to develop character. If your bag needs extra love, we (Revelate Designs) will do our best to repair it at a reasonable cost (labor & materials) and put it back in service.
All items sent for repair assessment must be clean. Bags should be hand wash and hang dried (washer/dryer agitation can cause additional damage). Soiled bags will not be assessed and will be returned for cleaning.
Please see our Warranty page for the details of our warranty process.